A lot has changed since last year's Gay Pride Week.
Gay marriage has become a front-burner issue.
"Queer Eye for the Straight Guy" is one of the hottest shows on television. And in Lawrence, gays and lesbians are beginning to organize outside the university.
"It's amazing how much has happened in so short a time," said Bruce Ney, vice president of NetworQ, a group that's playing host to monthly meetings of Lawrence-area gays.
"I mean, 'Queer Eye for the Straight Guy' has become water-cooler talk. You've got adult, straight men who can tell you all about the Fab Five," he said. "And I hear people talking about gays and gay-related issues who I'm sure have never talked about them before. You have to wonder how we got this far in just a year."
Equally as startling, Ney said, has been Lawrence's response to NetworQ's recent overtures.
"At our business meeting last week, we had 50 people -- we usually have 15 or 20," he said. "So many people want to get involved, we're having trouble keeping up with demand."
In Lawrence, Gay Pride Week is coordinated by Queers & Allies, an association that, under various names, has represented gay, lesbian, bisexual and transgendered students at Kansas University for more than 30 years.
This year's events get under way Monday with a 7:30 p.m. lecture at Woodruff Auditorium in the Kansas Union featuring Sabrina Sojourner, the first openly gay woman to serve in the U.S. House of Representatives.
Joe Kort, a psychotherapist, author ("Ten Smart Things Gay Men Can Do to Improve Their Lives") and adjunct professor of gay and lesbian studies at Wayne State University in Detroit, will lead a workshop Thursday on the psychological effects of homophobia on gays and lesbians, starting at 7 p.m. in the Centennial Room at the Kansas Union.
Other events include a movie, panel discussion, lecture, comedy, a book signing, a wine-and-cheese reception and the always-popular Brown Bag Drag Show at noon Friday outside the Kansas Union.
"There were a thousand people there last year; 300 were there from the get-go," said Jimmie Manning, a Queers & Allies co-director and director of Gay Pride Week.
This year's march through downtown Lawrence begins at 1 p.m. Saturday at South Park, followed by a 2 p.m. rally at Buford M. Watson Jr. Park.
The city's Earth Day parade begins at 11 a.m.
Queers & Allies director Sarah Burris said the group wanted to make sure its message didn't get lost in all the week's festive hoopla.
"Our theme this year is 'Racism, Sexism, Homophobia: Can't Hold Us Down,'" she said. "The point we're trying to get across is that the issue here is bigger than 'Queer Eye' or gay marriage. It's about human rights and how none of us are truly free until all of us are free. It's about not being oppressed because of who you are."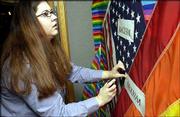 Copyright 2018 The Lawrence Journal-World. All rights reserved. This material may not be published, broadcast, rewritten or redistributed. We strive to uphold our values for every story published.