The days of speedy driving down Harvard Road are about to come to an end.
The Lawrence City Commission on Tuesday is expected to give approval to a traffic calming plan to install "traffic circles" and "speed cushions" along Harvard to deter drivers who use the road to avoid traffic along Sixth Street between Wakarusa Drive and Monterey Way.
"We're excited about it," said Mark Desetti, a Harvard Road resident who helped lead the effort to bring traffic calming to the neighborhood. "We think it's going to help the traffic situation a lot."
The neighborhood already has evidence the devices will work.
Residents raised an outcry after a young boy was struck by a car on Harvard Road in March 2001. City officials studied traffic there and found many vehicles on Harvard traveled at 35 mph to 40 mph and that some cars had been recorded at speeds up to 60 mph.
So in November 2001, the city installed temporary traffic circles along Harvard, at the intersections of Goldfield Street, Mulberry Drive and Moundridge Drive.
"There was quite a decrease in the speed," Desetti said. "A lot of people felt like there was a decrease in cut-through traffic (from drivers avoiding Sixth Street)."
When the temporary devices were taken down after a year, there was a marked change.
"The neighborhood immediately noticed that speeds increased when the temporary devices were removed," Public Works Director Chuck Soules said in a memorandum, "and requested that they be reinstalled pending the construction of the permanent traffic-calming circles."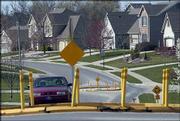 The permanent circles will go in the same places as their temporary predecessors, along with a new circle at Goldfield and Eldridge streets. The "speed cushions" -- speed bumps with two grooves cut through so ambulances and fire trucks can pass without hitting a bump -- will be installed along Harvard at Justin Street, Eldridge Street and near Prescott Drive.
Combined with the construction of nearby Folks Road, officials said, some traffic pressure will be taken off of Harvard.
"Folks will take some of it away," City Manager Mike Wildgen said. "But I think we can plan on Harvard still having a lot of traffic."
But Desetti said he would feel better about Harvard with the driving obstacles in place.
"I think for the families and kids who cross that road to go to Quail Run School, they are safer," Desetti said.
The commission meets at 6:35 p.m. Tuesday in City Hall, Sixth and Massachusetts streets.
Copyright 2018 The Lawrence Journal-World. All rights reserved. This material may not be published, broadcast, rewritten or redistributed. We strive to uphold our values for every story published.