Wellsville — A soldier's death and a family's sacrifice were recognized here Saturday morning.
Jake Butler was just shy of his 25th birthday when he died in As Samawah, Iraq, on April 1. He was Kansas' first casualty in the war. But while the country lost one soldier among many, Jake's family and the Wellsville community lost a son, brother, uncle and friend.
Hundreds gathered downtown for the annual fall Wellsville Days celebration in the town of about 1,600 people. They paid tribute to the loss of one of their own.
Leading the pack of fire engines, Boy Scouts and Shriners that made up the Wellsville Days parade was Jake's family. They sat tall as they were driven down Main Street in three convertibles as the parade's grand marshals. Jake's nieces and nephew waved at the hundreds of people lining the streets, while his parents, four brothers and other relatives gave solemn nods of acknowledgment.
When they reached the center of the cobblestone-paved Main Street, the Butlers were met by Jake's Army battalion commander. Lt. Col. George Geczy was there to present Jake's parents with a Silver Star medal recognizing their son's heroism. But Geczy did more that; he also told Jake's story.
Jake was a scorpion -- a scout sent out ahead of the rest of the platoon to find information. Geczy told the crowd over a loudspeaker how Jake and the rest of his scorpion squad had been sent to search for bridge escape routes over the Euphrates River. It was a necessary mission for preparing the takeover of As Samawah, a city about 150 miles south of Baghdad.
Jake was driving a Humvee when a rocket-propelled grenade hit him hard, Geczy said. But instead of losing his cool, Jake kept driving, steering the convoy away from danger and keeping others out of harm's way.
When word came of Jake's death, Geczy said he remembered that the sun was shining and the sky was bright. The news quickly clouded the day.
"I knew I had a dead soldier, just from the dark look on my sergeant's face," he recalled.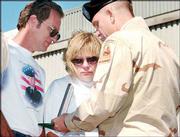 Jake's death made more sense to Geczy, though, when days later the platoon liberated As Samawah.
"Sacrifice from him helped make that mission possible," Geczy said. "Because of him, we kicked this evil system and beings from that city."
There was hardly a dry eye in the crowd.
"He gave it all. His life, his freedom," Vietnam veteran Melvin Lucas said after the ceremony. "He paid the ultimate sacrifice. Freedom isn't cheap, someone has to pay."
No one knows that better than Jim Butler, Jake's dad. A mild-mannered cattle rancher and carpenter, Jim Butler said the pain was still poignant.
"I think of him every minute of every day," he said.
But the family is coping with the loss by spending time together. Saturday, they were selling T-shirts with Jake's picture on the front, and bracelets that read: Sgt. Jacob L. Butler, Iraqi Operation Iraq Freedom. The proceeds will go to a trust fund for Jake's nieces and nephew, who called themselves Jake's "bestest buddies," Jim Butler said.
Paul Powell, 17, knew the Butler brothers from when he went to school in Wellsville. He was one of about 150 people who bought a T-shirt with Jake's picture. Powell will wear it proudly, he said, as a way to remember his good buddy.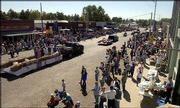 The Ottawa high-schooler was watching television news when he learned of Jake's death. "It took my breath away when I heard," he said.
But now that Jake is gone, he'll still be remembered, Powell said, quietly.
"I'll keep him in my heart."
Copyright 2018 The Lawrence Journal-World. All rights reserved. This material may not be published, broadcast, rewritten or redistributed. We strive to uphold our values for every story published.