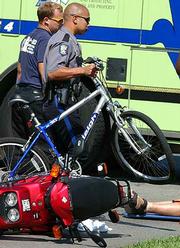 Two men were injured -- one seriously enough to be transported by helicopter to a Kansas City area hospital -- in a moped-bicycle collision during the noon hour Wednesday near a busy intersection on 23rd Street.
Police say the accident happened shortly after 12:15 p.m. Wednesday at the intersection of 23rd Street and Ridge Court.
According to Lawrence Police Sgt. Mike Pattrick, Joshua Duringer, 32, was riding a moped westbound on 23rd Street and struck the bicycle as Duringer was turning south onto Ridge Court.
John Albers, 55, had been traveling eastbound on the sidewalk. Police say he was hit as he crossed Ridge Court. He was taken to nearby Schwegler School where he was then flown by helicopter to the University of Kansas Hospital.
His identity was not being released until family members could be notified.
The man driving the moped was taken by ambulance to Lawrence Memorial Hospital. He was not wearing a helmet. Police say the bicyclist was wearing a helmet.
Copyright 2018 The Lawrence Journal-World. All rights reserved. This material may not be published, broadcast, rewritten or redistributed. We strive to uphold our values for every story published.