Conner Harmon and Jack Soto are both talkative 6-year-old boys at Quail Run School.
But as school cafeteria food critics, the first-graders' gastronomical tastes are as different as Iron Chef guru Kaga Takeshi is from down-home Cajun grub guy Paul Prudhomme.
Soto's preferred main course is popcorn shrimp, which disappeared from his bowl at lunch at a healthy pace.
"I could eat two of these," he gasped, pointing to his bowl.
Harmon wasn't buying it.
"I've tasted it! It's not good!" Harmon said. "Chicken nuggets are my favorite."
Theirs was a giggle-filled debate between first-graders as to what constituted good eating.
Paula Murrish, food director of the Lawrence public school district, said the quest to get students to eat what they enjoy, and what is healthy, is sometimes difficult.
"It's hard to please your family around the dinner table," she said. "So, trying to please 10,000 students around a large dinner table is a great challenge, but rewarding."
Murrish, responsible for a school food system serving 1.1 million lunches annually, said many students hone lifelong eating habits as they make lunch choices in school cafeterias.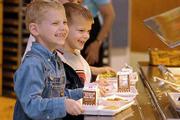 The district's goal is to make that process as healthy as possible, she said.
She said the district plotted each meal for nutritional value. The serving of popcorn shrimp preferred by Soto is 174 calories. The chicken nuggets favored by Harmon is 213 calories.
Murrish said food service departments in public schools must factor in the outside influences that play a big role in the way students think about food as they develop menus both healthy and appealing.
The two most popular foods for elementary students are chicken strips and pizza. Both are items readily available at many restaurants and heavily advertised.
Quail Run head cook Norma Basore has ushered thousands of children through school lunch lines. She's celebrating her 40th year in the school food service business. She said the three most disliked foods in elementary schools were fish, Polish sausage and barbecue pork. But students can't get enough of macaroni and cheese, pizza and spaghetti.
"They love that mac and cheese," she said.
Quail Run's menu changes daily, she said, but there is one constant: lettuce.
"We have something every day for salad makers," Basore said. "And they can have seconds."
In interviews with third-graders at Quail Run, Caleb Francis and Reid Williams had a couple of suggestions for the school district's food department.
"More super nachos," said Francis, washing down his chocolate cake with chocolate skim milk.
Williams lauded the district for dropping a "ham-and-cheese pocket" from the menu. But he said there was one time-honored dish he'd like to see added to lunch table.
"Chicken noodle soup, please," Williams said.
Copyright 2018 The Lawrence Journal-World. All rights reserved. This material may not be published, broadcast, rewritten or redistributed. We strive to uphold our values for every story published.