To most people in Lawrence, the name Mangino means football.
To Steve Gaudreau, it's much more than that.
It's a sandwich.
"It's such a basketball town, and I understand why," said Gaudreau, owner of Quinton's Bar and Deli, 615 Mass. "But football's been neglected for years. We're trying to get the ball rolling."
Mark Mangino's Kansas University football team rolled then-23rd-ranked Missouri, 35-14, Saturday at Memorial Stadium. The Jayhawks' fourth straight victory prompted Gaudreau to name a new sandwich after KU's second-year coach.
So what happens if Kansas loses its next game Oct. 11 at Colorado?
"It's there as long as he's here," Gaudreau said of the new menu item. "I think he's a good coach. They have a lot of hard games coming up. Even if they only win four games, that's a good season. They're getting better."
Mangino wasn't the first KU coach to have a sandwich named after him. Mojo's, 714 Vt., named its North Carolina pulled-pork sandwich for basketball coach Roy Williams long before he returned to his alma mater. That item remains on Mojo's menu.
"I think it's funny, but you know you've arrived if they name a street after you," Mangino said Thursday during a chat on kusports.com. "I haven't had one."
The Roy and The Mangino have one thing in common -- coleslaw. But The Mangino is mostly about the meat.
"It's a meaty sandwich," said Quinton's manager Greg Mann. "We wanted something really filling with all the ingredients we could think of, something unique."
The Mangino has pastrami -- lots of it -- with creamy coleslaw and Swiss cheese grilled on white or wheat bread.
The coach has repeatedly said his team is a "work in progress." So is the sandwich. It made its debut with honey mustard Wednesday, but the condiment was switched to a spicy Russian mustard Thursday.
Gaudreau, who's been in business since 1991, knows that good football is good for business downtown.
"I'm trying to express my gratitude to the football program," he said. "We all do well when the team does well. I just want them to keep going."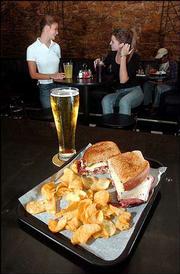 Watkins watch: Mangino reiterated during Thursday's online chat that injured defensive tackle Travis Watkins would not play at Colorado.
"Travis is progressing very well," Mangino said of the junior, who suffered a broken foot during the preseason. "He will not be ready for Colorado, and we're going to continue to monitor his progress and see if he is available for Baylor. Our medical staff has not informed me yet if he will be available for Baylor."
The Jayhawks play host to Baylor for homecoming Oct. 18.
Level heads: KU's four-game winning streak and victory over Missouri has generated national publicity this week, including an article on espn.com.
"Our players know that they must keep everything in perspective," Mangino said. "We became 4-1 this season because we have focused on the task at hand each and every week and have prepared well for each and every opponent. We have to be careful about praise. Sometimes it can be as harmful as criticism."
Family matters: Mangino will be adding a son-in-law to his family next June. Samantha Mangino, a KU senior, plans to marry Kansas State senior David Hardy next summer in Lawrence. Both students are 2000 Manhattan High graduates. Mangino's family lived there during his tenure as a KSU assistant coach.
Toomey on deck: Sophomore linebacker Gabe Toomey will answer fans' questions in a chat at 1:30 p.m. today on KUsports.com.
Copyright 2018 The Lawrence Journal-World. All rights reserved. This material may not be published, broadcast, rewritten or redistributed. We strive to uphold our values for every story published.