It might have been the correct call.
Then again, maybe it was an incorrect call.
That decision depended on whether you played soccer for Free State High or Shawnee Heights Thursday.
Nonetheless, it was a referee's questionable decision that directly led to a direct kick, which in turn gave Shawnee Heights a 1-0 victory at FSHS.
"I didn't think it was the correct call," Firebird coach Jason Pendleton said. "But it didn't directly lead to us losing the game.
"Oh, wait, I guess we did lose because of that," said a frustrated Pendleton, who still managed to crack a smile after his team's second setback this season. "But you can't expect to win games when you don't score."
That was the one certainty for the Firebirds (5-2-2) in a contest characterized by a back-and-forth battle of missed quality goal-scoring opportunities.
Finally in the second half, Shawnee Heights scored, even though the Thunderbirds' best scoring shot came after a referee's call.
In the 51st minute A.J. Perine drilled a five-yard free kick past Firebird goalie Aaron Williams.
No controversy there.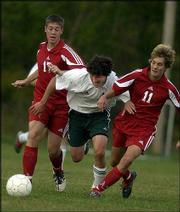 But Heights was awarded the point-blank shot because Free State's Sam Buhler tapped a ball outside of the goalie box back to Williams, who picked it up instead of kicking it -- thus earning the foul.
"Sam tried to control it, but he said it was outside of the goalie box," a disappointed Williams said of the official's decision. "It's really a judgment call."
While the one call made the contest's final margin, the game could have been decided if either team could have connected on its chances.
"I was just telling them that," said Pendleton, whose team missed seven shots -- nearly all of which were in close proximity to Heights' goal.
Then again, the Thunderbirds failed to convert on all but one of their eight shots, which were equally as opportune as Free State's.
"I just don't think the shots are falling our way right now," Williams said.
If reminded, the Firebird goalie probably would reconsider that stance considering that, with about 15 minutes left, a Heights shot deflected off the cross bar behind his head.
And just seconds later another strike at point-blank range was cleared by a Firebird defender.
Despite the disappointing outcome, Pendleton said his squad should have had more success because of their quality shots.
"You can't really complain about one call," he said. "We didn't score, so it doesn't matter."
Copyright 2018 The Lawrence Journal-World. All rights reserved. This material may not be published, broadcast, rewritten or redistributed. We strive to uphold our values for every story published.