Area historians hope that a 40-acre plot of land east of Baldwin will finally get the recognition they think it deserves as the battlefield that marks the unofficial start of the Civil War.
About 50 people gathered Saturday at the Black Jack Battlefield, the site where, in 1856, abolitionists under John Brown defeated encamped pro-slavery fighters.
"Eventually we want to develop a battlefield park along the lines of Gettysburg but obviously not that big," said Kerry Altenbernd, president of the Black Jack Battlefield Trust, and one of several people who spoke about the site's history and plans for its future.
The trust was set up earlier this year when the battlefield, which had belonged to the late James Cavender and his surviving wife, Alice, became available for sale. The Lawrence Preservation Alliance got involved and purchased the property until the battlefield trust is fully organized and can take control of funding issues.
The land is adjacent to the Robert Pearson Memorial Park south of U.S. Highway 56 along County Road 2075.
Much of the battle took place along and between two wooded ravines behind the Pearson house. The dwelling, which was built in the 1880s, will be saved and restored, Altenbernd said.
The morning event brought mixed emotions to Alice Cavender, who no longer lives on the farm she and her family called home for nearly 40 years.
"I'm glad they are doing what they're doing and going to save the house," Cavender said. "There's a lot of old memories here."
Altenbernd and others also want to the see the site become a designation in the National Heritage Area stretching from Fort Scott to the Nebraska border.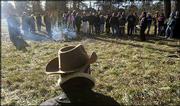 "Any society that cares about its past also cares about its future," said Deanell Tacha, of Lawrence, who also is chief judge of the U.S. 10th Circuit Court of Appeals. "We're bound to those people who lost their lives here."
Jonathan Earle, a Kansas University history professor, agreed. He said Brown forced people to choose sides on slavery.
"I think what happened here really changed the course of American history," he said.
Paul Stuewe, a Lawrence High School history teacher, said he always wondered if those who took part in the battle knew what they started.
"Brown was a visionary, but to what extent did he see this as the beginning of the war?" Stuewe said.
Copyright 2018 The Lawrence Journal-World. All rights reserved. This material may not be published, broadcast, rewritten or redistributed. We strive to uphold our values for every story published.