The phones at the Travellers Inc. travel agency were ringing so much Wednesday, the staff barely had time to talk to each other.
The din made Travellers vice president John Novotny happy.
"The last couple of years, people have stayed closer to home," Novotny said Wednesday from his office at Travellers, 831 Mass. "They drove to Chicago or St. Louis ... now we're very close to our normal levels."
Novotny's story is being repeated by representatives from across the travel industry this holiday season. Devastated after the 9-11 terrorist attacks and staggered by a round of bankruptcies that left airline seats in shorter supply, the travel industry appears to be rebounding.
Thirty-six million people nationwide were expected to travel 50 miles or more from their homes this holiday weekend -- the highest number of travelers in two years, according to the AAA travel group.
"Number one, it's the economy," AAA spokesman Mantill Williams said. "Whenever people feel more confident about their own personal finances, usually you see a little jump in travel."
Gasoline prices also have been stable, and the weather is perfect for traveling either by air or car, Williams said.
"Apparently, they don't anticipate any type of inclement weather throughout the weekend, so we're confident the travel is going to live up to our expectations," he said.
AAA predicted 4.6 million people -- 13 percent of all travelers -- would fly over the holidays, up 1 percent from 2002 but still 10 percent to 15 percent less than pre-9-11 levels.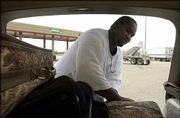 At Travellers, agents have been swamped with customers booking "resort" vacations.
"I think people are tired of having their heads in the sand," Novotny said. "They're saying the kids aren't getting any younger, the mortgage isn't getting any less expensive, let's get out there and live a little bit."
Especially popular this holiday season: all-inclusive cruise vacations. Families pay a flat fee for airfare, tickets on a cruise ship, meals and entertainment. With dozens of new ships available, Novotny said, trips through the Caribbean and along the Mexican Coast offered a great deal.
"They're making them almost too attractive not to do it," he said.
In Lawrence, the prospect of the Kansas University football team returning to postseason play for the first time in years also is raising optimism among travel professionals.
Travellers and other Lawrence agencies are making arrangements for group trips to Fort Worth, Texas, and Orlando, Fla. -- sites of the Fort Worth and Tangerine Bowls, the two bowls to which KU is thought most likely to be invited.
The only negative for travelers this season appears to be the lack of airfare wars among the major carriers. Though some tickets are still available, consolidation and corporate cutbacks among domestic airlines have lessened the deep discounts that often characterize the holiday travel season.
Despite the uptick in air travel, the vast majority of Thanksgiving travelers will take to the nation's roadways this weekend. AAA predicted that 31 million people, or 86 percent of all holiday travelers, would reach their destination by car. A trip in Kansas will be a little more expensive this year -- average price of gasoline in the state is about $1.45 per gallon -- a nine-cent increase in price compared to last year.
Amtrak spokesman Dan Stessel said 550,000 passengers were predicted to travel by rail between Tuesday and Monday. To better serve the influx of patrons, Amtrak has added 70 extra trains, including 31 Acela Express high speed trains in the Northeast.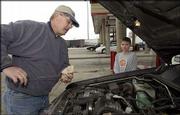 Copyright 2017 The Lawrence Journal-World. All rights reserved. This material may not be published, broadcast, rewritten or redistributed. We strive to uphold our values for every story published.