James "Bill" Paddock, president of Lawrence's Rice Foundation and a former district court judge, received the Lawrence Rotary Club's Paul Harris award during a luncheon presentation Monday at the Hereford House restaurant.
The award, given annually by the group to a non-Rotarian, is considered the chapter's "most prestigious," a presenter said.
"You have personified quiet effectiveness ... the kind of thing Rotary stands for: service above self," said Don Johnston, the Rotary member who presented Paddock a certificate, medallion and small Jayhawk keepsake before a roomful of fellow Rotarians and guests.
Johnston is a senior vice president at Intrust Bank.
Paddock, a 1956 graduate of the Kansas University law school, went on to serve more than 20 years as a Douglas County District Court judge.
After retirement in 1994, he was named a senior judge by the Kansas Supreme Court.
Paddock was honored by the club for his many years of civic involvement and work in the community. He was nominated for the award by Rotarian and Lawrence attorney Jack Brand.
"Bill Paddock has done things over the years in a quiet and unassuming manner," Brand wrote in his nominating letter. "For this reason, he does not get much public credit and is probably not very well known. But when you combine his work on the judiciary, the school board and the charitable foundation, he has had an immense impact for good upon the Lawrence community."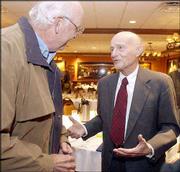 Over the years, Paddock served as president of the Lawrence school board and Douglas County Historical Society. He currently is president of the Rice Foundation, which makes annual financial contributions to Lawrence groups such as the United Way.
Johnston said Paddock and Raymond Rice, a founder of the Rice Foundation, "were instrumental" in the historical society's acquisition of the Watkins building at 11th and Massachusetts streets. The building is now home of the community historical museum.
"It is with a great deal of humility rather than pride that I accept this award," Paddock said during his acceptance speech.
Also present were Paddock's wife, Ruth Ann, and his son Jim, an airline pilot from Chicago who was visiting.
After the award was presented, Judy Culley, executive director of The Shelter, which is a home for troubled children, gave the group an update on the status of children who are in state custody because they have been abused or neglected.
Copyright 2018 The Lawrence Journal-World. All rights reserved. This material may not be published, broadcast, rewritten or redistributed. We strive to uphold our values for every story published.