Baldwin — The source of noxious fumes that forced evacuation Tuesday of more than 400 people from Baldwin High School and sent more than two dozen to the hospital still was unknown late Tuesday.
The high school was evacuated while Lawrence-Douglas County Fire & Medical set up a triage system to care for students and staff suffering from inhalation of the chemical. There are 440 students and 35 staff members in the school.
School authorities said it was possible the release was intentional.
Twenty-six students and a substitute teacher were taken by ambulance, school bus or car to Lawrence Memorial Hospital for examination and treatment.
Scott Robinson, medical director of the LMH emergency room, said symptoms exhibited by patients he examined led him to theorize the source could have been pepper spray or Mace.
He said another possibility was that ammonia and bleach were mixed to produce a noxious fume.
"Both of those things cause irritation to your respiratory tract and your eyes," Robinson said. "What we saw was coughing and wheezing. Some kids had nausea or headaches."
All those taken to LMH were expected to be released Tuesday. The most seriously afflicted -- the five taken by ambulance to LMH -- were treated with oxygen, Robinson said. Some of the students didn't require medical treatment.
Baldwin Supt. James White said a hazardous materials unit searched the school for the fume's source. The substance apparently dissipated before monitors could pick up a trace for identification.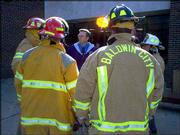 He said it was possible somebody intentionally released a chemical as a prank.
"We can't rule that out, certainly," White said. "That would be one of the strongest possibilities."
Students began to complain of breathing problems about 10 a.m.
Baldwin junior Angela Bogner was taking an exam in the cafeteria when school officials sounded the alarm. The school's crisis-response plan was initiated.
"They said there was a chemical spill, so we all needed to go to they gym," she said.
The central location of the irritant appeared to be a second-floor boys' restroom, Bogner said.
White said students who were in the school's upstairs commons area were most affected by the contamination.
Students not taken to LMH eventually were moved from the high school's gym to the nearby junior high school, where they were fed lunch or released to their parents.
"We evacuated the building and asked the haz-mat folks to come and do a little air monitoring for us," White said. "All the readings that they had on their equipment have been in the normal range."
Classroom laboratories and the school's mechanical systems were checked for malfunctions, but nothing out of the ordinary was found.
After opening doors to the high school to ventilate the building, White said, students were allowed to return to class about 1 p.m.
Copyright 2018 The Lawrence Journal-World. All rights reserved. This material may not be published, broadcast, rewritten or redistributed. We strive to uphold our values for every story published.