Changes to a downtown communications tower weren't subject to city review, officials said Tuesday, even though it sits near a historic site.
SBC Communications this fall replaced metal fencing with wire mesh on the tower, which looms over downtown in the 700 block of Vermont Street.
"We replaced the old fencing because it wasn't as environmentally friendly to the pigeons and also because of safety issues," said Brett Sayre, external affairs area manager at SBC. "We do our best to keep trespassers out of the tower. We'd hate to see someone get hurt."
The tower is close to the Eldridge Hotel, which is on the National Register of Historic Places. City codes require that any construction done in proximity of a historical site be reviewed by the city's Historic Resources Commission.
But there are exceptions.
The wire mesh "didn't require a building permit," said Lynn Zollner, the city's historic resources administrator. A permit would have triggered the review requirements.
Rob Phillips, general manager of the Eldridge Hotel, said the mesh didn't bother him -- it's the tower itself.
"Maybe with technology someday and satellites it won't be needed, and then I think it would help improve the skyline of downtown," Phillips said.
Lawrence residents walking downtown on Tuesday agreed.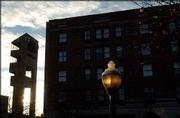 "Wire mesh to me is not a big deal," Lawrence resident Thomas Harris said.
But he added: "It (the tower) sticks out like a sore thumb. They don't need a tower like that."
"Wire mesh really is not an attractive thing anywhere," Lawrence resident Dean Syverson said. "To me it seems the existence of the tower itself is 10 times worse than anything they do to decrease its attractiveness."
In the fall, SBC replaced microwave dishes -- state-of-the-art when the tower was built two decades ago -- with antennas and switching equipment for Cingular Wireless, SBC's cellular phone subsidiary.
Copyright 2018 The Lawrence Journal-World. All rights reserved. This material may not be published, broadcast, rewritten or redistributed. We strive to uphold our values for every story published.