John Hughes Jr. earned the Purple Heart for his service during the Vietnam War.
Now he serves with his heart.
"When I came out, nobody had our backs," Hughes said. "I came back in so it wouldn't happen again."
Hughes is the quartermaster at Veterans of Foreign Wars Post No. 852 in Lawrence. When he first joined the VFW in 1968, Lawrence was a "hot spot" of anti-war activism.
"I needed somewhere where I could come and be comfortable," Hughes said.
He found it among his fellow veterans. Now retired, Hughes handles finances for the VFW post, which is dedicated to supporting veterans at home and in the halls of Congress. Most of the dues he collects go toward lobbyists on Capitol Hill.
"This (fighting for veterans' rights) is not something one veteran can do alone," Hughes said. "We need all the guns we can get."
Hughes, and the VFW, have changed significantly over time. Where once young men joined the VFW as a social outlet, most new members today are middle-aged, joining to get help obtaining veterans' benefits. More of Hughes' fellow Vietnam veterans, who once declined to participate in organizations like the VFW, are starting to sign up.
"With the (current) wars, the patriotism is back," Hughes said. "Veterans are hearing 'What I did wasn't wrong' and 'I'm not those things they called me.' ... They're starting to come out of their shells."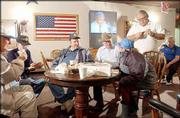 It's a welcome change for the VFW and the American Legion, the nation's two largest veterans' organizations.
"We're losing over a thousand (World War II) veterans a month, nationwide," said Bob Brooks, commander of American Legion Post No. 14 in Lawrence.
During the years after World War II, millions of former servicemen joined up. Brooks said many joined for the social aspects, sharing stories and beers at the local American Legion hall. Now, times have changed.
"People have a lot of things going on now," Brooks said. "They're just so busy with their lives."
Many of the active VFW and American Legion members are retirees, with more time to dedicate to post activities. Increasingly, those activities include community service.
"We run Boys State (a civic education camp) ... and Legion baseball," said Ross Wulfkuhle, a World War II veteran and Legionnaire. "We're trying to get younger people to join."
At the VFW, Hughes said he expected both organizations would continue to prosper, albeit in a smaller, more specialized form.
"We'll never see the numbers we had (after) World War II," he said. "There just aren't as many Vietnam veterans. ... But as they get older, they'll start having health problems and join to protect their rights."
Hughes said veterans' groups were still relevant in the 21st century, and would be for the foreseeable future.
"We've got a lot of 18-year-olds over there in Iraq right now ... in 20 years, they'll be in their primes and they'll start joining," he said.
But Hughes said his greatest hope was to see the VFW and the Legion disappear.
"It would mean we had no more wars and no more veterans."
Copyright 2018 The Lawrence Journal-World. All rights reserved. This material may not be published, broadcast, rewritten or redistributed. We strive to uphold our values for every story published.