The house on West 26th Street looks much like its neighbors -- a two-story home, construction nearly complete, in one of Lawrence's newer neighborhoods.
To Ann Riat, it looks like the finish line of a six-month marathon.
"We're starting to get antsy now, because it's so close," she said this week.
Riat, her daughter, Diane, and her son, Dustin, haven't slept in their own home since May 7. On May 8 -- six months ago today -- an F2 tornado ripped the home apart.
"When I heard the glass breaking and wood shattering, that's when I got scared," Riat said. "When you hear the sounds of a breaking house ... it's eerie."
A family odyssey
In the six months since the tornado bounced into Lawrence and shoved the Riats from their home, they have stayed with friends and in a series of rental houses. They haven't been in one place for more than two months at a time.
"The hard part is living out of boxes, because you unpack a little at a time," Riat said. "Then you have to pack up and move again."
The moving is nearly over. The Riats hope to move into their rebuilt home the day after Thanksgiving, bringing the family's journey to an end.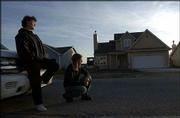 The Riat's home was one of 192 dwellings damaged by the twister, which left about 100 people at least temporarily homeless. No one was killed in the destruction, and only a handful of minor injuries were reported. Official estimates put total damage from the storm in the city and Douglas County at $6.39 million.
For other residents displaced by the first twister to hit Lawrence in 20 years, the journey was shorter. But for them, too, it took months for life to return to normal.
"It was hard," said Ashley Christman, a former resident of Aberdeen South apartments, the complex that suffered the worst of the damage. "I felt like I was being pushed out on the street."
'Difficult transition'
Christman's apartment was condemned shortly after the storm, forcing her to find a new place to live. Being on the street was made more difficult by the fact her car also was flattened by debris ripped from the shattered buildings. The Kansas University senior had to find a new place to live and get a new vehicle -- while studying for finals to finish her junior year.
"I don't know how I dealt with it," Christman said. "There were just so many things that I had to deal with ... you don't want to face it right away."
She borrowed a car from a family friend and moved into a new apartment a few weeks later. And though she's had shelter and transportation for months, she says she only recently started to feel settled.
"I was uprooted so abruptly, it just didn't feel right," Christman said. "For months, I didn't feel at home here ... it was a very difficult transition."
Guardian angels
For Joe Clark, another former resident of Aberdeen South, the transition was just as abrupt, but not as difficult. Though Clark's apartment suffered little damage, it also was condemned, forcing the KU student to move back home.
"I'm pretty lucky," Clark said. "My parents live in Kansas City. I ran up there and got their minivan and put pretty much everything I own in there."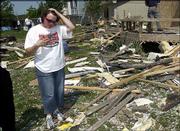 Clark now lives in an apartment in the Oread neighborhood, close to campus. Though his new place is a little smaller than the one the tornado hit, he says he feels a little safer.
"It seems like a tornado wouldn't come here quite as much," Clark said. "If it did it'd be a lot more devastating."
Christman said the tornado and its aftermath were awe-inspiring.
"It sounds kind of strange ... but it was still an amazing experience," Christman said. "It wasn't necessarily a positive amazing experience, but it was definitely amazing."
For the Riat family, though, the experience has been a nearly unending series of stressful events. But Ann Riat said the tornado taught something about her faith and her friends.
"I think God was watching over us with guardian angels that night," she said. "Family and friends have helped foodwise, with clothes. ... I couldn't ask for a better family."
Copyright 2018 The Lawrence Journal-World. All rights reserved. This material may not be published, broadcast, rewritten or redistributed. We strive to uphold our values for every story published.