A Lawrence neighborhood association won a partial victory Tuesday to keep a hotel out of its back yard.
Lawrence city commissioners voted unanimously to rezone the 11-acre tract off Legends and Research Park drives from commercial to research park uses.
The West Lawrence Neighborhood Assn. had sought a medium-density residential zoning to act as a buffer between any new research facilities.
"It's about what we expected," said Gwen Klingenberg of the neighborhood association.
The area was originally part of a much-larger planned development of corporate headquarters and technology startups, modeled after the famed Research Triangle area in North Carolina.
"This was looked at as a partnership," Planning Director Linda Finger said. "(It was) a good cooperative relationship between the university and laboratory types of businesses which can be nonintrusive into residential areas."
Neighbors, however, found the usage intrusive and asked commissioners to consider zoning part of the property for apartments or duplexes and the rest as office or research park.
"We would like see that there is a better buffer between our neighborhood and an M1 (office park zoning)," Klingenberg said. "You're talking 40 feet as your buffer zone."
Commissioners disagreed, citing the presence of a high-pressure gas line and the city's ability to require further buffer zones if and when the tract is built upon.
"I want to do what's best for the neighborhood, but I don't see how a RM or RMD does that," said Commissioner Boog Highberger, referring to two multifamily residential zoning codes.
"The M1 uses that are out there now seem to be about as benign as you could hope for," Mayor David Dunfield said.
Several lots near the 11 acres have been developed, with a dance studio, a bank and small-scale office buildings. The Planning Department has never received a request to develop the property, but neighbors are worried about its future, even with the new zoning.
"When we see how close it is to back yards with children ... it will become a major focal point for our neighborhood," Klingenberg said.
With the city's action Tuesday, the rezoning now must go back to the Lawrence-Douglas County Planning Commission for study and public comment. The Planning Commission should consider the rezoning in December or January. It likely will get final approval from the City Commission shortly after the first of the year.
Hughes center proposal tops Carnegie use ideas
Lawrence city commissioners on Tuesday designated the proposed Langston Hughes Center for Community Enrichment as the "lead partner" for the future use of the former Carnegie Library building.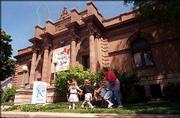 A group of community leaders suggested the center as a clearinghouse for cultural and literacy activities in the city.
However, commissioners asked the center's backers to meet with groups wanting to turn the building into an arts commons or a children's museum.
"I want to see if there are things that can be brought into the umbrella of the Langston Hughes Center," Mayor David Dunfield said.
The center is one of nine proposals for the building at Ninth and Vermont streets. Projects not receiving favorable ratings included a homeless shelter and a wrestling gym.
Commissioners hope to have a final proposal back from the center's backers by mid-January.
Copyright 2018 The Lawrence Journal-World. All rights reserved. This material may not be published, broadcast, rewritten or redistributed. We strive to uphold our values for every story published.