Baghdad, Iraq — Nervous Baghdad parents kept children home from school on Saturday, but warnings of terror attacks and anonymous calls for a general strike otherwise had limited impact across Iraq, as U.S. authorities moved to counter an intensifying insurgency.
More Iraqi security forces will be trained and deployed more quickly to deal with the anti-U.S. resistance, said U.S. occupation chief L. Paul Bremer.
"It will take time to root them out," Bremer told reporters. But his U.S. commander said it still was not known who "they" are -- who is financing and masterminding increasingly coordinated strikes.
Those attacks spiked upward recently to an average of 33 a day. Most occur in central Iraq, but Saturday's deadliest blow came in the north, in the city of Mosul, where the U.S. military said a makeshift roadside bomb -- originally thought to be a land mine -- exploded and killed two U.S. soldiers and wounded two others as they drove by in two civilian vehicles.
President Bush on Saturday insisted U.S.-led forces were rounding up insurgents and vowed the new attacks would not drive out the Americans. "The United States will complete our work in Iraq," Bush said in his weekly radio address. "Leaving Iraq prematurely would only embolden the terrorists and increase the danger to America. We are determined to stay, to fight and to win."
In another incident Saturday, unconfirmed by the U.S. command, witnesses said insurgents attacked a U.S. convoy near Heet, 75 miles northwest of Baghdad, and one Iraqi was seen waving a piece of wrecked vehicle and shouting a pro-Saddam Hussein slogan. There was no word on casualties.
It was a street leaflet attributed to the fugitive ex-president Saddam's Baath Party that called for a three-day general strike and declared Saturday a "Day of Resistance," sparking rumors of planned new terror bombings.
Despite these fears, many shops in this city of 5 million people opened Saturday as usual, although fewer Baghdad residents seemed eager to venture out in the morning. Traffic picked up as the day wore on, however, and as people realized no siege of bombings had materialized.
Police checkpoints had been set up across the city.
"I went out as usual and sent my children to school," said one resident, Karima Dawth. "Warnings by Baathists don't terrify us."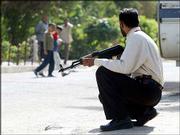 Copyright 2018 The Associated Press. All rights reserved. This material may not be published, broadcast, rewritten or redistributed. We strive to uphold our values for every story published.