Steven Dalager is ready for splashdown at the Lawrence Aquatic Center.
"It's going to get hot, and I want to get cooled down," the 9-year-old said.
In as sure a sign that the seasons are changing as the final school bell and ants roaming picnic tabletops, the aquatic center opens today for the summer season. It will be open to the public from 1 p.m. to 9 p.m. daily until Sept. 1.
Lori Madaus, manager of aquatic facilities, predicted the pool would be visited by as many as 1,500 swimmers a day. People of all ages visit the pool, but it is most popular among water lovers from 10 to 17 years old.
The aquatic center in Buford M. Watson Jr. Park was renovated in 1995 to make it more attractive to children. Additions included two water slides and a zero-depth area adorned with water-spraying mushrooms, fountains and water buckets for children. Madaus said those features have become some of the most popular attractions and attendance has tripled since the renovations. She said the water slides were probably the most popular attraction, followed by the diving boards.
Just ask 4-year-old Sara Dalager.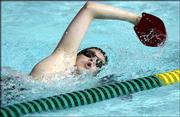 "I like to go on the diving boards and play in the little pool," she said.
For those who prefer to stay dry, the aquatic center offers folding lounge chairs and a shaded dining area near the concessions stand. The stand serves snacks such as hot dogs, candy and nachos, which Madaus said was the most popular item.
Beginning at 9 a.m. weekdays, the center at 727 Ky. offers swimming lessons in levels ranging from infants with their parents to adults. Prices vary for each class, but average $29. Those interested in taking lessons can register by calling 832-7990.
The aquatic center also will have special events throughout the summer. New this year is Pool Party Mania night. On the third Saturday of each month parents can drop off their children from 5 p.m. to 9 p.m. to be supervised by pool staff. Party admission is $12 and includes swimming, games, movies, prizes and snacks. The event is recommended for children from 5 to 10 years old. Parents must call to register their child before the event.
Another popular event is Free Family Fun Fridays. On July 25 the pool will be free from 5 p.m. to 9 p.m. To check out other programs over the summer, visit the Web site at http://parks-recreation.ci.lawrence.ks.us/aquatics/oacevents.shtml.
The Indoor Aquatic Center, 4706 Overland Drive, is another option for Lawrence swimmers. Starting June 2, the indoor pool's hours are:¢ Lap swimming: 5:30 a.m.-8:45 p.m. Monday through Friday, 9 a.m.-8:45 p.m. Saturday, 1:30 p.m.-5:30 p.m. Sunday.¢ Water slide and diving area: 1 p.m.-8:30 p.m. Monday through Saturday, 1:30 p.m.-5:30 p.m. Sunday.¢ Zero depth and children's area: 1 p.m.-8:45 p.m. Monday through Saturday, 1:30 p.m.-5:45 p.m. Sunday.Admission at both pools is free for children younger than 4, $1.25 for children ages 5 to 12, $2.50 for youth 13 to 17 and seniors, and $3.75 for adults.An annual pass is $128, and a 30-day pass is $14. Discount ticket booklets are also available.For more information, see parks-recreation.ci.lawrence.ks.us/aquatics/oacevents.shtml.
Copyright 2018 The Lawrence Journal-World. All rights reserved. This material may not be published, broadcast, rewritten or redistributed. We strive to uphold our values for every story published.