Meika Potter won't forget her last home game as a Free State High softball player.
Potter, the only senior on the Firebirds' roster, stroked a key two-run single to help Free State thump Lawrence High, 7-1, in the nightcap of a doubleheader Tuesday evening.
Lawrence High won the first game, 3-1, in nine innings.
"They thought we'd be down after that first game, and we proved them wrong," Potter said. "It was Lawrence High. We knew we had to come back and fight. They didn't think they'd have to take us seriously."
Lawrence High coach Reenie Stogsdill didn't dispute Potter's assessment.
"We got that first win, and we let down a little bit," Stogsdill said.
"I know we're not happy the way we played. I'm disappointed in the way we played the second game."
Free State snapped a scoreless tie with a three-run fourth, capped by Potter's single.
Third baseman Lauren Abney also singled, and LHS shortstop Jenni Morrell had a throwing error -- one of five Lion miscues.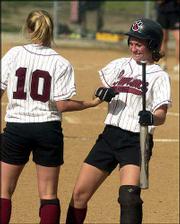 Then the Firebirds unloaded in the fifth, scoring four runs after two were out.
Abney started the outburst with a seemingly innocuous single. Then pitcher Ashley Wagner singled and went to second as the Lions threw to third trying unsuccessfully to throw out Abney. Moments later, Stogsdill replaced starting pitcher Lisa Pearse with Whitney Juneau, the winning pitcher in relief in the opener.
Jamie Stanclift greeted Juneau with a ground single that plated Abney.
Minutes later, Wagner scored when the Lions botched a rundown, then Stanclift scored on a wild throw by catcher Jen Narcomey. Finally, Free State catcher Dacia Sprow doubled into the left-center field gap for still another run.
The Firebirds had scored four runs on four hits and three LHS errors to take an insurmountable 7-0 lead.
"I felt we could have played better in the second game," Lawrence High senior first baseman Courtney Taulbert said. "I don't feel we were as focused, and that gave them the edge. They look for us all season, and it's just another game for us."
The Lions avoided a shutout by scoring an unearned run in the sixth. Otherwise, Lawrence High managed only three singles off Wagner.
Free State pitcher Felicia Freeman was nearly as sharp as Wagner in the opener, holding the Lions scoreless through eight innings before they broke through with a bang in the ninth.
Danielle Huff rocketed a leadoff double into the left-center gap and, two batters later, Audrey Corkill tripled down the left-field line. Moments later, Corkill scored on Shannon Worley's deep double to left.
Juneau, who was the winning pitcher, singled up the middle to drive in Worley.
"Felicia doesn't throw hard, but she had a lot of movement on her pitches," Free State coach Pam Pine said. "Those two doubles were off drop balls that didn't drop."
Lawrence High ended the regular season with an 11-9 record. Free State, 5-13, has a doubleheader remaining Thursday at Shawnee Mission East. Sub-state play will begin next week.
"The girls did a good job of coming back," Pine said. "We've been trying hard all year. Hopefully, this will give us confidence because they beat the state champions yesterday and we beat them."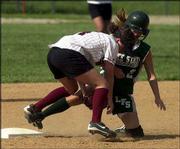 On Monday night, the Lions had handed Shawnee Mission Northwest its second defeat of the season.
"Free State has the best team they've ever had," Stogsdill said. "They're a good team, and they played very well today."
Lawrence 3, Free State 1, 9 innings
Lawrence 000 000 003 - 3 8 3
Free State 000 000 001 - 1 7 2
WP--Whitney Juneau. LP--Felicia Freeman.
2B--LHS: Danielle Huff, Shannon Worley; FSHS: Jamie Stanclift. 3B--LHS: Audrey Corkill; FSHS: Lauren Abney.
LHS highlights: Shortstop Jenni Morrell had two singles. Right-fielder Corkill had a single and a triple. Jillian Hill pitched a scoreless first five innings. LHS record: 11-8.
FSHS highlights: Third baseman Lauren Abney hit a single and a triple. Ashley Wagner had two singles. Firebirds scored in the ninth on Jamie Stanclift's double and Morrell's error. FSHS record: 4-13.
Free State 7, Lawrence 1
Lawrence 000 001 0 -- 1 3 5
Free State 000 340 X -- 7 8 1
WP--Ashley Wagner. LP--Lisa Pearse.
2B--FSHS: Dacia Sprow.
LHS highlights: None. LHS record: 11-9.
FSHS highlights: Lauren Abney had two hits and four on the day. Wagner allowed only three singles. The Lions' run was unearned. FSHS record: 5-13.
Copyright 2018 The Lawrence Journal-World. All rights reserved. This material may not be published, broadcast, rewritten or redistributed. We strive to uphold our values for every story published.