Ryan Pope is standing up for music education by performing to the beat of his own drum.
Pope, drummer for The Get Up Kids, will play with three other acts starting 7 p.m. Thursday at Liberty Hall, 642 Mass., to raise money for music programs in the Lawrence school district.
Lawrence's school board is considering about $3.5 million in budget cuts this year.
"If music programs get cut," Pope said, "then some kids won't have anywhere to go after school. Their hobbies and interests get shelved. Music provides a safe outlet."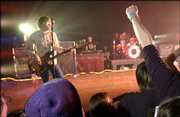 Tickets are $15 to the all-ages show with The Get Up Kids, Approach, DJnotaDJ and Getaway Driver. (Note: Casket Lottery will not be performing, contrary to previous reports.) It's sponsored by lawrence.com and Black Lodge Recording in Eudora.
Proceeds from the concert go to Lawrence Schools Foundation, a charitable organization that works on behalf of students and staff.
Pope said he got into music as a fourth-grader by playing timpani in an orchestra.
"When I was very young, that was my first interest in music," he said. "And by doing it through school, my parents actually allowed me to pursue it."
Copyright 2018 The Lawrence Journal-World. All rights reserved. This material may not be published, broadcast, rewritten or redistributed. We strive to uphold our values for every story published.