One way or another, Nathanial Buckley was determined to fly.
He got his wish last year, and it cost him his life.
Buckley, a 2000 Kansas University Air Force ROTC graduate and Air Force lieutenant, was killed Aug. 7, 2002, when his special-operations plane crashed during a training mission in Puerto Rico.
Tuesday, a special leadership award was presented in his name for the first time to another KU cadet, Michael Roy, a Smithville, Mo., sophomore. Roy also received $500 from the Fry (Topeka-Wichita) chapter of the Air Force Assn.
Buckley's father, David, and brother, Caleb, from Minneola, also were presented with an original artwork in Nathanial's honor. Drawn by Lawrence artist and KU graduate Alvin Howell, it depicts Buckley in his uniform and symbolizes his small-town roots and his love for flying.
The award was presented during ROTC Detachment 280's annual award ceremony in the Big 12 Room of the Kansas Union.
"He always wanted to be a pilot, but his vision kept him from it," David Buckley said. "But he said he was going to be on a plane somewhere."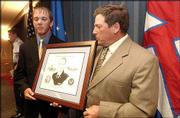 Nathanial Buckley was an electronics warfare officer aboard an MC-130H Combat Talon II. The plane, a modified C-130 cargo plane, is used for flying and resupplying Special Forces units behind enemy lines.
"It's good he is being remembered for what he did," David Buckley said. "He was a hard worker."
Caleb, 23, described his brother as "a friend to everybody" who didn't prejudge people.
A second copy of Howell's artwork will be placed in the ROTC detachment.
Col. Mike Lee took over as the detachment's commander last year. He said one of his first jobs was to drive cadets to Minneola for Buckley's services that took place in a gym.
Lee recalled walking out of the gym and over to a playground.
"You take one step off that playground, and you are in a cornfield," Lee said. "It came to me that we get quality people from the heartland. That has stuck with me."
Copyright 2017 The Lawrence Journal-World. All rights reserved. This material may not be published, broadcast, rewritten or redistributed. We strive to uphold our values for every story published.