College students subsist on Ramen noodles, mac 'n' cheese, chips and salsa -- oh, and beer.
That's the stereotype, anyway. But Christina DiGiacomo doesn't fit the mold.
On a recent evening, DiGiacomo, a 23-year-old Kansas University senior from Apple Valley, Minn., whipped up a dinner party for a group of friends. The spread she put out featured: bruschetta topped with mozzarella, provolone, basil, garlic and chopped salami; a Caesar's salad tossed with fresh crab and her own homemade dressing; and a giant bowl of ziti pasta with ricotta cheese and her own pesto sauce, topped with chopped tomatoes.
"We're moving out of the casserole age -- many of us college students remember that's what mom used to make -- and we're getting all these sophisticated ideas," DiGiacomo said.
If that trend is taking place at KU, it could be due, at least in part, to DiGiacomo herself.
She's a cheerleader for college students learning to move beyond a basic diet of burritos and brew and into a more mature culinary realm.
"Learning how to cook now, especially in college, is so essential. After college, most men and women go out and have careers and find jobs," DiGiacomo said.
"With the way America eats these days, constantly going through the drive-through lines, nobody knows how to cook. Learning the skills now is what's imperative for your future health."
That's the message this fledgling Emeril Lagasse has trumpeted all year in her Thursday food column, "Eat This," which runs in the University Daily Kansan's popular Jayplay section.
It's been a first effort in journalism for DiGiacomo, who's majoring in communications studies, and it has proved to be a labor of love.
"I'm so passionate about cooking, and I love writing about it. It's almost more of a hobby than something I have to work at. It's fun to do," she said.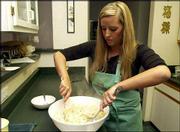 DiGiacomo's pleased with the response to her columns, which have typically generated five to 10 e-mails a week from readers -- most of them positive.
"I've accomplished a goal I've always wanted to succeed at: informing people how to cook and giving them incredible recipes."
Her last column in the Daily Kansan runs Thursday.
Studied in Italy
When she sits down to compose a food column, DiGiacomo's not just writing off the top of her head. Her cooking skills and food knowledge are well grounded.
DiGiacomo spent the summer of 2000 studying abroad in Florence, Italy, where she attended the Societa Dante Alighieri, an Italian language and cooking school.
While there, she took a monthlong, intensive course in Italian cooking techniques.
"I learned how to make fresh pastas, everything from gnocchi to spinach-filled raviolis. We always had some meat, chicken or pork dish for the main meal. We made osso bucco, a veal shank that's cooked in wine and tomato sauce and chopped-up vegetables," she said.
But DiGiacomo learned even more about cooking from her mentor, Antonio Cecconi, a chef from Sardinia, Italy. He owns a catering company called The Italian Gourmet in Hopkins, Minn.
DiGiacomo worked for Cecconi during the summers of 2001 and 2002.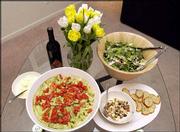 "The summer after I went to Italy, I needed to find a job and wanted to do something with cooking. I had gotten a job at a cooking school as an assistant to chefs from the Twin Cities who taught classes there," she said.
"Antonio was one of the chefs who worked there, and he always needed others to help in the kitchen at his catering company. I called him up and told him about my experience (in Italy), and he pretty much hired me on the spot."
It was a great opportunity for DiGiacomo to roll up her sleeves and learn her way around the kitchen.
"He's the best boss I've ever worked for. That's all I did was cook," she said. "Whenever I get a chance to go back home, he usually lets me work."
DiGiacomo, a fifth-year senior, plans to live in Lawrence at least another year.
She isn't sure yet what kind of career she wants to pursue, but she's thought of doing something related to food, such as the restaurant business.
Cooks up own recipes
How did DiGiacomo get the gig to write a food column for the Daily Kansan?
"That's funny. I was always thinking to myself, 'Gosh, all newspapers have recipes in them, and the Kansan doesn't have them, and students would just love that.' I just came up with an idea of putting a column in the paper about cooking and recipes," she said.
Last spring, DiGiacomo contacted the Daily Kansan's incoming editor-in-chief, Jay Krall, who was enthusiastic about the idea. He passed it down to the newspaper's incoming Jayplay editor, Sarah Smarsh.
"They wanted me to do it for the Jayplay section, and pretty much the ball was in my court. They asked me what I wanted to do with the column. I wanted to provide easy recipes for readers," DiGiacomo said.
Her food column debuted the first day of school last August. The topic was about stocking the basic necessities that college students might want to have in their cupboard, refrigerator and freezer, including cooking utensils.
How did she decide to call her new effort "Eat This"?
"I don't know. Sarah told me to come up with some catchy name for my column, and so I started brainstorming. It's kind of like an in-your-face title more than anything," DiGiacomo said.
Most of her columns are loaded with recipes for satisfying-yet-simple dishes that would be easy for college students learning to cook for themselves.
Her April 24 column featured a whole week's worth of recipes, including: penne pasta with fresh tomato sauce and meatballs; grilled chicken breast with cool cucumber pasta salad; and Mrs. Wilkerson's Sliced Ham with Honey Glaze and Sliced Potatoes and Peas.
DiGiacomo, an avid viewer of the Food Channel and a collector of cookbooks, is the source of most of the recipes that have appeared in her column.
"I make them up, just from everything that I've learn from cooking and what I've read about," she said.
"Except for the recipe for Mrs. Wilkerson's Sliced Ham. That comes from my boyfriend's mother."
Copyright 2018 The Lawrence Journal-World. All rights reserved. This material may not be published, broadcast, rewritten or redistributed. We strive to uphold our values for every story published.