The torn Jayhawk decal on Lester Marsh's battered trumpet case has seen more world history than most people.
Marsh applied the decal to the trumpet case while a member of the Kansas University marching band during the early 1940s. The case accompanied him when he was drafted into the Army during World War II, and it was toted along while he served in the Battle of the Bulge and the postwar occupation of Germany.
Now, only about a third of the old Jayhawk can be seen -- although the outlines of the original decal are still visible, faded into the trumpet case.
"Right now, it's not in very good shape," said Betty Marsh, Lester's wife. "But he's been around."
Lester Marsh, now 80, came from Paola to KU to go to school and play trumpet. He played in the marching band for two years, putting the decal on his case during that time.
He had to give up the band, however, when he was drafted.
"I had to go get Hitler," he said.
He was sent to Arkansas for basic training. There, some of the soldiers formed a band, and Marsh sent for his trumpet.
Music helped to pass the time -- although Betty Marsh moved to Arkansas to be near her husband, they weren't allowed to see each other.
"Our first wedding anniversary we couldn't get together," he said. "We had to shake hands through a fence."
The Jayhawk and trumpet went with Lester Marsh to Europe, where he was a member of the 734th Railroad Battalion, ferrying soldiers, equipment and prisoners of war across the continent.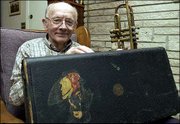 "During the Battle of the Bulge, Old Jayhawk spent his time in a cave dodging buzz bombs," Betty Marsh said.
Lester Marsh remained in Germany during the first year after the war, and he joined another band that played a dance hall in Frankfurt.
"The American military personnel came there to dance," he said. "And they had to dance with the German girls -- we didn't have female military personnel like they do today.
"We played every night," he said. "We didn't have anything else to do."
Lester Marsh returned home to Kansas City in 1946, meeting his wife under the clock in Union Station. He went to work for the railroad, moving around the country and never graduating from KU. He put the trumpet away.
"He hasn't played it hardly since he got out of the Army," Betty Marsh said. "It's been 50 years probably."
The Marshes returned to Lawrence in 1999. Two of their children have attended KU, as have three grandchildren.
They continue to hang on to the instrument case, with its torn Jayhawk and tarnished trumpet.
Why?
"Memories, I guess," Betty Marsh said.
Copyright 2013 The Lawrence Journal-World. All rights reserved. This material may not be published, broadcast, rewritten or redistributed. We strive to uphold our values for every story published.