This was worth the wait.
After 25 days and two rainouts, Free State High's baseball team snagged a memorable 8-7, nine-inning victory from intracity rival Lawrence High Saturday in front of more than 500 fans at FSHS Field.
"Good teams will give you everything," FSHS coach Mike Hill said. "Games like this will bring out the best in people. We're just glad we came out on top."
The Firebirds (14-1 overall, 5-1 Sunflower League), rallied from a 7-3 deficit and held LHS scoreless through the final five innings. FSHS senior Chris Coleman capped the comeback with an RBI single in the bottom of the ninth, scoring freshman Robby Price.
It was a fitting finish, considering the game's billing.
LHS (9-4, 4-3), ranked fifth in Class 6A by the Kansas Baseball Coaches Assn., was coming off its first win in three games.
The Firebirds, the state's top-ranked team, suffered their first loss of the season Thursday.
It's the highest the teams ever have been ranked when they've faced each other.
"There is no other way. I mean, these guys (LHS) are good," Coleman said. "LHS has always been good. We were looking forward to playing them a month ago, and to finish it this way, there is no other way."
The start was just as hot as the finish.
The Lions' first three batters scored off three hits and a walk, while the Firebirds matched those runs in the bottom of the inning with a single, a walk, a hit batsman and three LHS errors.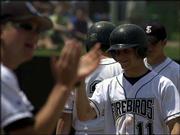 Despite the gaffes, the Lions kept the pressure on offensively. They had 12 hits to the Firebirds' nine -- becoming the first opponent this season to outhit FSHS -- and scored their most runs since April 12.
"I told the kids, 'I feel better about this team than I have in three weeks,'" LHS coach David Petry said. "I never thought we'd outhit them. We made some errors that hurt us, and they did, too, but at the same time, I'm anything but upset. I don't want them to hang their heads."
No kidding. The Lions were poised to win.
LHS took the lead in the third when senior Tommy Mangino doubled, then scored on an error from Firebird third baseman Tyler Blankenship. They added three more in the fourth when senior Matt Johnson had an RBI single, and Mangino walloped a two-run homer.
"I think he just thrives in this game and in these situations," Petry said of his catcher, who ended the day 3-for-4 with three RBIs. "Whenever we need him, he's been there."
Still, Petry was wary of the Firebirds' offense. When LHS stranded a runner at third with one out in the second inning, Petry thought it might hurt the Lions.
"No lead is big enough with these guys," he said. "They can put some runs up on the board in a hurry. I knew then that that run would be big."
The Firebirds, for their part, never panicked.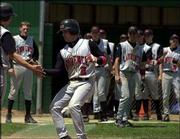 "It was a little tense, but look at our dugout," Coleman said. "Nobody put their heads down. Everybody was up cheering. We just wanted to get up to the plate and get the job done."
It helped having senior Matt Lane pitch the final three innings. He allowed no runs and just two hits and improved to 7-0, breaking Brett Bogard's 1999 school record for wins in a season.
Lane and LHS senior Aaron Madill turned the slugfest into a defensive gem in the final five innings, as Madill masterfully matched Lane.
"We had to find a way to get it done against what I think is an outstanding pitcher in Madill," Hill said. "Aaron's just a bulldog. He'll come after you."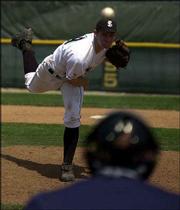 When Coleman connected for the game-winning hit, the Firebirds breathed a collective sigh of relief.
"We knew it was going to be a great game," Lane said. "It was going down to the wire, and I think that's what everyone wanted. No one wanted a blowout."
When the two teams match up again Thursday at Ice Field, it could be another doozy.
First, the Lions will play host to Shawnee Mission West Wednesday, while the Firebirds have Shawnee Mission Northwest, ranked fourth in 6A, Tuesday at FSHS Field.
"We're in for a dogfight on Tuesday," Hill said. "We've got to get prepared for Shawnee Mission Northwest, then we've got to get ready for another dogfight with (LHS) next Thursday."
Copyright 2018 The Lawrence Journal-World. All rights reserved. This material may not be published, broadcast, rewritten or redistributed. We strive to uphold our values for every story published.