Jeff Lewine can't wait to start using the equipment at the Hoglund Brain Imaging Center.
Lewine, the center's director of magnetoencephalography (MEG), has plans for a research project on how fetuses learn language development in the womb.
"It's a wonderful array of technology," Lewine said. "We're the only place in the world with all this technology."
Lewine was among the 150 people who gathered Wednesday to dedicate the center at the Kansas University Medical Center.
The $3.2 million building, near 28th and Eaton streets at the Med Center's north end, includes $8.8 million in equipment. Construction was spurred by a $4 million gift by Forrest and Sally Hoglund, KU alumni from Dallas. Forrest Hoglund is a retired energy executive who serves as chairman of the KU Endowment Association's $500 million "KU First: Invest In Excellence" campaign.
The equipment will allow researchers to scan the brain to better understand such diseases and ailments as Alzheimer's, stroke, migraine headaches and epilepsy.
William Brooks, the center's director, said he expected patients from area hospitals and researchers from other entities, in addition to KU scientists, to use the equipment.
He said preliminary tests on the machines were nearly completed, and he's waiting for final approval from the Med Center's human testing committee before research projects can begin.
Two researchers for strokes already have projects ready to go. Patricia Pohl, assistant professor of rehabilitation sciences, will examine stroke recovery, and Randy Nudo, professor of physiology, will test a device that stimulates the brain after a stroke.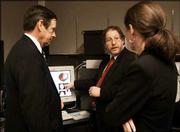 "This gives us an opportunity to gain inroads on brain injury with multiple forms of technology," Brooks said. "By putting all these pieces together, we'll get a greater understanding of what is causing it."
Brooks paid tribute to the Hoglunds for their vision of the center.
"Forrest and Sally Hoglund are wonderful people with a love for life and KU," he said.
Forrest Hoglund said the gift toward the project served as "seed money" to convince the government to contribute to the project. He said the partnership worked well.
He said the project served as a symbol of the "revitalization" of life sciences projects in Kansas City.
"This is a wonderful day for Sally and me," he said. 'We're just as excited as we can be about this. ... The cutting-edge, state-of-the-art tools are what draws the people."
Copyright 2018 The Lawrence Journal-World. All rights reserved. This material may not be published, broadcast, rewritten or redistributed. We strive to uphold our values for every story published.