Kansas University's 101-year-old Dyche Hall is getting a facelift.
The home of the Natural History Museum is among the remodeling projects under way in laboratory spaces across campus.
"We haven't had the space to put people," said Jordan Yochim, the museum's assistant director. "The museum is packed full between the specimens we hold, the galleries, the offices and the classrooms."
The Dyche project will add 14 workstations and a computer laboratory to support a grant-funded "bioinformatics" program. With about $3 million from the National Science Foundation, and other grants from the departments of education and defense, researchers are developing online computer software to link Web sites and databases to one central Web site for data collection on natural history museums and other researchers.
The sixth-floor space, which once held specimens, was emptied in the early 1990s when additional storage was created on the west side of Dyche Hall, said Jim Modig, director of KU's design and construction management.
The renovations cost about $350,000, Yochim said, and will be paid for with donations from Occidental Petroleum. They coincide with upgrades to Dyche Hall's fire system, including sprinklers and creating fire-rated corridors for people to safely exit.
The Dyche Hall project is one of three laboratory renovations in the works. All three are scheduled to receive final approval today from the Kansas Board of Regents.
Another, on the sixth floor of Malott Hall, will remodel the old science library space, used before the construction of Anschutz Science Library, into offices and a laboratory. It also will remodel two other rooms on that floor for updated research in the School of Pharmacy.
The Malott projects will cost about $390,000 in state funds.
The final major laboratory remodeling soon will be underway at Haworth Hall. An eighth-floor room will be remodeled into new labs for a newly hired faculty member with federally funded research programs in molecular bioscience, Modig said. That will cost about $250,000 and will be funded by the KU Center for Research.
"As much as we like to update everything, we never have enough money to go around," Modig said. "When you're adding research programs, like at Malott or Haworth, what may have been good 10 or 15 or 20 years ago isn't good today. When you put in a research lab, you have to update that facility for that particular program."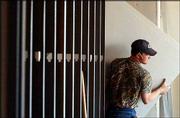 Copyright 2018 The Lawrence Journal-World. All rights reserved. This material may not be published, broadcast, rewritten or redistributed. We strive to uphold our values for every story published.