With 107 boys and girls on Lawrence High's track and field roster, there will be plenty of unfamiliar faces early in the season.
So at Wednesday's practice, LHS coach Jerry Skakal told the juniors -- all 32 of them -- to stand up shake the hands of five Lions they didn't know.
"I already did that with the sophomores last week," Skakal said. "It's kind of an ice-breaker type of thing."
Of course, there's a reason for the forced friendliness.
"Track and field is a sport where you have your little group that you work out with, and you know them," he said. "But when you go to a meet, I want you to cheer for someone else. Like coach (Chip) Anderson and his runners. They're everywhere when they're not running at a meet. To me, it's a good way to build team support. I want them to go around and support each other."
That support starts at 3:30 p.m. Friday, when LHS opens its season at the Topeka West Relays. And with the Lions' mix of depth and quality, there should be plenty to support.
The boys feature junior Sylvester Birdsong, the defending state champion in the long jump, and senior Sunflower League champs Scott Bellinger (high jump), Dylan McClain (1,600 and 3,200) and Chris Fulton (100, 200).
McClain and senior Andy Struble are two of the state's top distance runners, while Fulton may be the best sprinter. He'll also anchor the Lions' 4x100 and 4x400 relays. Skakal said Fulton could be the key to LHS making a run for the state title.
"And Fulton, historically, has shown up at the big meets," he said.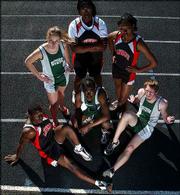 Throw in potential state placers in senior Brandon Womack (javelin), junior Jacob Rahmeier (discus) and seniors Micah Thomas and Brian Seymour in the hurdles, and the LHS boys could be among the state's best.
The girls team doesn't have the same depth -- LHS has 32 girls on the roster compared to 75 boys -- but the quality is close.
"Right now with our girls we're strong in a few areas," Skakal said. "If we can find another quality person for the relays, we should be tough."
Seniors Audrey Pope (300 hurdles) and Magdalen Obiefule (shot put and discus) both won league titles last year, and are potential state champs.
Skakal said junior Erin Knight has looked good in the javelin, senior Shari Lassiter is starting to excel at the long jump and junior Rachael Klingler could be a nice surprise in the high jump. Senior Lauren Davis and junior Meg Gentry, the Lions top cross country runners, also could be state placers.
Free State
The FSHS boys won the Sunflower League title last year and placed third at state, but Firebirds coach Steve Heffernan said it's the girls team that might be the one to watch when FSHS opens its season at Wichita Southeast Saturday.
"It's probably the most talented and the best depth that we've ever had," he said. "There's going to be someone to score for us in every event."
At least during April and the first part of May.
Once Class 6A regionals and state roll around May 19, the Firebirds don't have the state final shoo-in athlete. Still, Heffernan thinks a top-6 finish at state is possible, mostly because of their depth.
"They'll be a very good regular season team, but once you get to state, it's all about the superstars," he said. "We've got some potential, but we just have to wait and see when it comes time for regionals."
Who could be the studs?
Junior Sam Frisbie is the defending league high jump champ, while senior Kelly Perme, an Emporia State signee, should be among the league's best hurdlers. Junior Amber Beierly is the team's top sprinter, and three throwers -- senior Jayme Lisher and juniors Kristen Baker and Lauren Abney -- all could be state placers.
Senior Mallory Richardson is the top distance runner and FSHS should get a boost when freshman Alysha Valencia joins the team in mid-May after her junior high track season is complete.
The boys feature three returning state placers from last year's squad, all seniors.
Hiral Bhakta is among the state's fastest distance runners, while Stanley Redwine is among the best triple jumpers and long jumpers. Adrian Ludwig won the league title in the 800.
Those three will be the key to the boys' state finish.
"I think all of them are capable of eight-to-15 points at state," Heffernan said. "If we can get that kind of production out of them, that puts you right in the title hunt."
Newcomers to watch include senior Leroy Goodman, who is the Firebirds' best sprinter, sophomore Ryan Rastock, whom Heffernan describes as "fearless" in the 300-meter hurdles and sophomore Alex Rock, who is developing into a solid distance runner.
"We like what we've got going into the season," Heffernan said. "RIght about Topeka Seaman (May 2) will be when we know what we have for the rest of the year."
Copyright 2018 The Lawrence Journal-World. All rights reserved. This material may not be published, broadcast, rewritten or redistributed. We strive to uphold our values for every story published.