Buffalo, N.Y. — The lawyer for James Kopp told a judge Monday that the anti-abortion activist felt it was his religious calling to fire a high-powered assault rifle at a Buffalo-area abortion doctor.
Prosecutors ridiculed that notion as heretical and urged Erie County Judge Michael D'Amico to find Kopp guilty in the 1998 sniper slaying of Dr. Barnett Slepian, the last abortion provider killed in the United States.
Although Kopp admits shooting Slepian as the doctor stood in his home's kitchen, he is seeking acquittal. His defense is that he only meant to wound the doctor to protect the unborn.
Kopp, 48, waived his right to a jury trial last week and placed his fate with D'Amico, who said he likely would rule today on charges of second-degree murder and murder with depraved indifference to human life. Kopp could receive 25 years to life in prison if convicted.
Kopp also faces federal charges of interfering with the right to an abortion.
Describing his client as a devout Roman Catholic, defense attorney Bruce Barket said Kopp believed killing a doctor who would perform abortions is "morally permissible and, under some circumstances, obligatory conduct."
"Jim was motivated out of love and concern for children scheduled to be aborted," Barket said.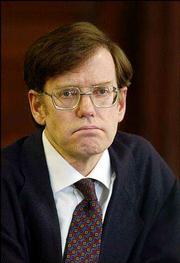 Kopp feels it is "consistent with his Catholic faith" to take up arms against abortion providers, the lawyer said, calling his client selflessly dedicated to the anti-abortion cause.
His voice dripping with sarcasm, Assistant Dist. Atty. Joseph Marusak responded: "Say grace and pass the ammunition."
Marusak said that Kopp "twisted the meaning of the sign of the cross" to suit his own zealotry.
"That's an insult to Catholics," Marusak said of the suggestion that Kopp acted out of Catholic convictions. "Have you ever heard that papal announcement?"
Shooting Slepian was "an act of religious terrorism," the prosecutor said.
Copyright 2018 The Lawrence Journal-World. All rights reserved. This material may not be published, broadcast, rewritten or redistributed. We strive to uphold our values for every story published.