Jurors couldn't reach a verdict Friday afternoon in the Douglas County murder trial of Topekan Michael W. Kesselring.
The jurors' task is to decide whether Kesselring played a part in the kidnapping and slaying of Topeka resident Dale A. Miller in September 2000 -- or whether, as Kesselring claims, he had no role in the events that led to Miller's death.
Kesselring's attorney argued Friday that Kesselring, 42, was a "fall guy" for a Topeka-based drug-dealing ring whose members wanted Miller dead. They suspected Miller of stealing a stash of illegal drugs worth up to $250,000, so they arranged for a handful of people to kidnap him at a Topeka home.
Kesselring admitted in testimony that he was with the group the night Miller disappeared, but he said he was there only to buy some marijuana.
"He wanted to go home that evening, watch a movie, and smoke a joint," his attorney, Martin Miller, said during closing arguments.
Miller argued the state placed too much faith in the testimony of a co-defendant, Gary F. Holmes.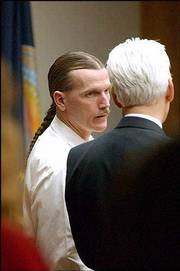 Holmes, who pleaded guilty to kidnapping charges, said he was drunk that night but remembered riding in the back seat as Kesselring drove Miller to Lecompton, ordered him out of a car and shot him.
Miller called Holmes "a 260-pound slug slithering through life."
Miller argued that Kesselring was only a drug user with no stake in the operation -- and therefore had no motive for murder.
However, Assistant Dist. Atty. Dan Dunbar in closing arguments cited Kesselring's distance from the drug-dealing organization.
"You get guys that aren't involved in the organization to do your dirty work," Dunbar said.
Dunbar pointed out letters Kesselring sent in the Douglas County Jail to a co-defendant asking him to back his alibi the night of the killing.
Dunbar argued Kesselring contradicted himself by saying he didn't know people associated with the kidnapping when other evidence showed he did.
And, he said, Kesselring's recollection of the events the night of the kidnapping seemed too clear.
"It makes you wonder if it's recall or concoction," he said.
Jurors are scheduled to resume deliberations Monday.
Copyright 2018 The Lawrence Journal-World. All rights reserved. This material may not be published, broadcast, rewritten or redistributed. We strive to uphold our values for every story published.