Kansas taxpayers could be saved millions of dollars if the state did a better job providing pregnant, low-income women with prenatal care that prevents low birth-weight babies, a new audit concludes.
Each year, a third of the births in Kansas are Medicaid-related, meaning the mother or baby is a Medicaid recipient. Of these babies, about one in 10 has a low birth weight, is premature or both.
On average, costs associated with these babies are five times more than their normal-weight counterparts.
"This confirms what I've thought all along," said Rep. Brenda Landwehr, R-Wichita, referring to a Division of Legislative Post Audit report released last week. "The services are out there; we've just got to do a better job of getting them to the people who need them."
Landwehr, chairwoman of the House subcommittee that oversees welfare spending, requested the report after reading a December 2001 Journal-World story on the rising costs of caring for frail newborns.
"I wish it hadn't taken so long, but I'm glad it's done," Landwehr said of the report.
Audit findings
Nationwide, 7.6 percent of all babies born in 2000 Medicaid and non-Medicaid had a low birth weight. In Kansas, the figure was 6.9 percent.
Babies considered low birth weight are those weighing less than 5 1/2 pounds. Premature babies are those born before 37 weeks.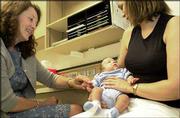 Among the audit findings:
Low birth-weight babies' hospital stays were six times longer than those of normal babies. On average, a normal baby's birth costs $3,100; a premature or low-weight baby's birth costs $16,000.
Of the $54.1 million that Kansas spent on Medicaid babies under 1 year old in fiscal 2000, $19.5 million went for low birth-weight and premature babies.
Spending in fiscal 2003 is expected to be comparable.
In 2000, Medicaid paid for 14,407 births, including 1,320 that had low birth weights, were premature or both.
Care not a cure-all
The audit cautioned lawmakers that by itself prenatal care is not enough to offset the consequences of smoking, drinking, drug use, poor diet and previous medical conditions.
As an example, the study cited the case of a girl born almost two months premature weighing slightly less than 4 1/2 pounds even though her mother began prenatal care in her second month of pregnancy and saw her doctor eight times before giving birth. But a review of the 34-year-old mother's file showed she was a smoker and cocaine user.
Her baby born with serious heart, kidney and respiratory defects was hospitalized nearly five months, costing taxpayers more than $515,000.
Still, the study concluded more access to prenatal care was better than less.
Recommendations
Linda Kenney, director of the Bureau of Children, Youth and Families within the Kansas Department of Health and Environment, agreed with the audit's recommendations that KDHE should:
Do a better job marketing its programs.
Improve communication with programs run by the Kansas Department of Social and Rehabilitation Services.
Analyze its data in ways that help focus scarce resources where needed most.
"We plan to follow through on every one of those," Kenney said.
But Kenney and Nancy Jorn, director of maternal child health field services at the Lawrence-Douglas County Health Department, said the report sidestepped the problems faced by working, low-income women caught between earning too much money to be eligible for Medicaid and not being able to afford health insurance.
Also, Jorn said, "There are all kinds of barriers to getting people on Medicaid who are eligible for Medicaid. I wish that had been addressed more."
Copyright 2018 The Lawrence Journal-World. All rights reserved. This material may not be published, broadcast, rewritten or redistributed. We strive to uphold our values for every story published.