Two Pulitzer Prize-winning authors and a former presidential adviser will come to Kansas University this fall for the Presidential Lecture Series at the Dole Institute of Politics.
Robert Caro, Roger Wilkins and David Gergen make up this year's lineup.
"It's a good sophomore season," said Richard Norton Smith, director of the Dole Institute of Politics. "It will be a strong sequel to last year."
Last year's inaugural series drew an average of about 1,900 people to the Lied Center over three Sunday evenings in November, making it one of the best-attended lecture series at KU. Presidential historians David McCullough, Michael Beschloss and Edmund Morris were the speakers.
This year's lectures will be at 8 p.m. Nov. 2, Nov. 9 and Nov. 16, again at the Lied Center. The series is free and open to the public.
Caro will start the series Nov. 2. He is best known for his biography series on Lyndon Johnson. Caro is currently working on the fourth installment of the series, "The Years of Lyndon Johnson: The Presidency." The third volume, "Master of the Senate," earned him a Pulitzer Prize.
Caro also won a Pulitzer for "The Power Broker: Robert Moses and the Fall of New York," written in 1974.
Wilkins, whose planned visit to KU in February was canceled because of a snowstorm on the East Coast, will be the second lecturer. He is a faculty member at George Mason University and shared the 1972 Pulitzer Prize in journalism for editorials he wrote for the Washington Post about the Watergate scandal.
He also is author of "Jefferson's Pillow: The Founding Fathers and the Dilemma of Black Patriotism," the autobiography "A Man's Life" and is publisher of the NAACP journal "Crisis."
Gergen, who will complete the lecture series, served in the White House under presidents Nixon, Ford, Reagan and Clinton. He currently is an editor at U.S. News and World Report and is a regular analyst on ABC's "Nightline."
Staff writer Terry Rombeck can be reached at 832-7145.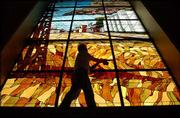 Copyright 2018 The Lawrence Journal-World. All rights reserved. This material may not be published, broadcast, rewritten or redistributed. We strive to uphold our values for every story published.