There are 130 young football players running around Lawrence High's practice fields this week.
LHS coach Dirk Wedd and Free State coach Bob Lisher hope they like it. That's a number both coach would love.
"I'm not going to see that," Lisher said. "I'm going be lucky to get 60 this year."
The annual FSHS-LHS youth football camp for students from third to ninth grades began Monday and runs through Friday at LHS. Both schools' coaching staffs and former standouts run the camp, which instructs burgeoning players in football fundamentals.
And it's a way to get those youths interested in football.
"This a chance for us to teach these kids to play football the right way," Wedd said. "And if a few of them catch the bug, then it's been a successful camp."
When camp opened Monday, heavy rains forced the campers into the LHS cafeteria and hallways. Tuesday's heat and humidity made things sticky, but none of the campers seemed to mind as they went through a series of offensive, defensive and special-teams drills from 8:30 a.m. until noon.
There are 16 coaches working with groups of 20 to 30 players. Most of the coaches are LHS or FSHS assistants, and some are former players like FSHS graduates Kyle Berthold, Walker Douglas and LHS grad Brian Erb.
Wedd thinks those former players might be the most effective camp coaches.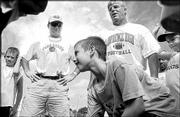 "When a really good football player like (Brian) Erb or Derrick Newman or Devin McAnderson, guys that they've seen play at Haskell Stadium, show them how to play, I think they listen," Wedd said. "When Derrick tells the linemen to get in a three-point stance and put 60 percent of their weight on their toes, they get it because it doesn't come from some old guy like me."
Neither coach tries selling his program over the other.
"None of that's brought up this week," Lisher said. "This is just about Lawrence football and a chance to help make them better football players."
Copyright 2018 The Lawrence Journal-World. All rights reserved. This material may not be published, broadcast, rewritten or redistributed. We strive to uphold our values for every story published.