Coast-to-coast runners take break to see KU
Kansas University's legendary track and field history caused four men running across the United States this summer to take a two-day break.
The men, all from Virginia, are raising money to pay for a new athletic facility at Cave Spring High School in Roanoke, Va. They began their trek May 14 near Sacramento, Calif., and arrived Sunday in Lawrence. They left Monday afternoon for Kansas City, Mo.
The men were given a tour Sunday of the Rim Rock Farm cross country field during a visit with former KU track coach Bob Timmons. They also stopped by legendary KU runner Jim Ryun's Jefferson County house and had their picture taken on his front porch. Ryun, a congressman, wasn't home.
"When you think of Kansas and running you think of Timmons and Jim Ryun," said Laurence Loesel, a cross country and track coach at Cave Spring.
The runners hope to help raise $1.5 million for the athletic facility by attracting attention on their cross country run. To contribute, visit the Web site www.cavespringknights crossing.com for instructions.
Lawrence
KU Web site features Jayhawks on Parade
Want to check out the Jayhawks on Parade but don't want to brave the hot temperatures? A new Kansas University Web site may be for you.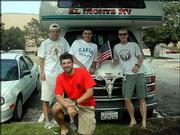 The site -- www.jayhawkstour.ku.edu -- features 360-degree photographs and detailed information about the 30 decorated, fiberglass Jayhawks around town. The site features a description of each Jayhawk, the artist's biography and a map to its location.
The birds, sponsored by KU, Convention and Visitors Bureau and area businesses and individuals, are on display through October. The Lawrence Convention and Visitors Bureau also has a Web site for the project, www.jayhawksonparade.com.
Copyright 2018 The Lawrence Journal-World. All rights reserved. This material may not be published, broadcast, rewritten or redistributed. We strive to uphold our values for every story published.