Leigh Baird sat among the banks of computers Monday at the Lawrence Public Library, filling out financial aid forms online. She didn't have to worry that her neighbors might be viewing smut on the Web -- the library's Internet service is "filtered" to make pornography difficult to download.
So Baird wasn't particularly troubled by Monday's U.S. Supreme Court ruling that the government can require public libraries receiving federal money to equip computers with anti-pornography filters.
"I guess that's OK," Baird said of the ruling. "You don't want little kids looking at porn. And I don't want to sit here and wait (to go online) for 30 minutes while somebody's looking at porn."
Kansas Atty. Gen. Phill Kline responded to the ruling with a promise to seek state legislation requiring Internet filters on computers in public schools and libraries.
"The Supreme Court's action is a breath of fresh air," he said, "applying common sense and appropriate legal analysis to reverse the distorted constitutional interpretation that too often has passed as legal scholarship."
But libraries had argued that the technology blocked a vast amount of valuable information about science, medicine and other topics along with dirty pictures.
Judith Krug, with the American Library Assn., predicted that many libraries would consider rejecting federal money rather than installing filters.
"A substantial number of libraries will say it's not worth it," she said. "The fact that the librarian can flick a switch isn't going to change the stigma that's attached to it."
Lawrence Public Library Director Bruce Flanders, however, said he didn't mind Monday's ruling. Lawrence receives about $15,000 a year in federal library grants.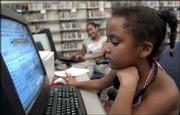 "Personally, it doesn't bother me that much," he said of filtering requirements. "I may be a little out of step with other librarians."
Monday's ruling -- and Kline's proposed legislation -- won't change much in Lawrence libraries.
Flanders said his library's computers were filtered through a server that blocks access to tens of thousands of "triple-X" sites already determined to be pornographic. He said the library had rejected a filter that blocked sites containing certain words.
"We experimented with it several years ago," Flanders said. "We found it was blocking innocuous sites a lot."
He said the library, which has eight computers for use specifically by children and adolescents, adopted the filtering after hearing complaints about the downloading of explicit materials.
"We were receiving complaints from other patrons about having to walk by that," Flanders said.
Nancy Horner, information resources specialist for the Lawrence school district, said school computers also were filtered. There was a review process to unblock harmless sites, she said, but only three appeals were made during the 2002-2003 school year.
"It hasn't been a major problem," she said. "We do not want to have barriers to educationally relevant good sites."

-- The Associated Press contributed to this report.
Copyright 2018 The Lawrence Journal-World. All rights reserved. This material may not be published, broadcast, rewritten or redistributed. We strive to uphold our values for every story published.