The rewards will be sweet for Kajsa Mullenix's good deeds and love of reading.
The sixth-grader at Sunset Hill School is among 38 talented and community-oriented youth from across the country to be selected by Nestle USA and Reading Is Fundamental for an all-expense-paid, five-day trip to Los Angeles and a $1,000 award for donation to a charity of her choice.
"I didn't expect to win," she said. "I think it will be awesome."
The Nestle Very Best in Youth program annually recognizes people ages nine to 18 who have demonstrated a commitment to reading and made tangible contributions to the quality of life in their communities.
This year's 38 recipients, from 24 states, were selected from more than 1,500 applications. Mullenix is the only winner from Kansas.
"It is always an honor for me to interact with such amazing young people like Kajsa who have accomplished so much in their early life," said Kenneth Bentley, vice president for community affairs at Nestle USA.
Mullenix has volunteered for the Lawrence Humane Society, Presbyterian Manor and Special Olympics. She collected toys for Ballard Community Center and activity books for the Community Drop In Center for the homeless.
Last year, she cut off her 12-inch ponytail and donated it to Locks of Love, which makes wigs for children who have developed long-term medical hair loss.
She coordinated a lemonade stand after the Sept. 11 terrorist attacks. Working with her family as well as other children, they raised $1,600 for the American Red Cross relief fund.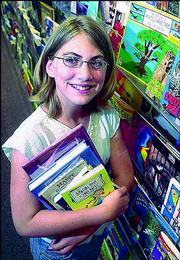 "Instead of getting birthday gifts from my friends, I ask them to bring donations for a charity I have chosen," Mullenix said.
She will travel with her parents and brother to Los Angeles in July. They'll stay at the Renaissance Hollywood Hotel, tour Nestle's for breakfast, have a Blockbuster video night, spend a day at Universal Studios and go to Disneyland.
Reading Is Fundamental, a nonprofit children's literacy organization, will distribute a book with pictures and profiles of the children.
A black-tie awards ceremony for presentation of awards to the students will include an opportunity for families to walk down the same red carpet celebrities use at the Oscars.
"The favorite part of the trip will actually be going up on the stand and getting the award," Mullenix said.
Mullenix has given considerable thought to how she'll allocate the $1,000 prize.
"I'm going to donate it to my school, because of the budget cuts," she said.
She will specify that the money be divided for the benefit of Sunset Hill students just learning to read, students who are advanced readers and the general library fund.
One irony lost in the hubbub about the event is that Mullenix isn't a huge chocolate fan.
"I like chocolate bars," she said, "but not chocolate cake, not chocolate ice cream, not chocolate milk."
Copyright 2018 The Lawrence Journal-World. All rights reserved. This material may not be published, broadcast, rewritten or redistributed. We strive to uphold our values for every story published.