Even decades later, after her family had found a safe home in the United States, the mental scars of Eva Edmands' "hidden childhood" lingered.
"For years after, when we were living in New York, any time we saw a policeman or anyone in uniform, it would elicit a reaction -- fear. I was afraid any time I would hear a knock on the door, even though consciously you knew it wasn't the Gestapo," the 73-year-old Edmands said.
Edmands, a Lawrence resident, was among the Jewish children who survived the Holocaust only because they spent months or years hiding.
She also has struggled with a sense of guilt that she survived while 1.5 million Jewish children perished.
"I was ashamed of being Jewish. If you are told long enough that you are scum, you are nothing, you really believe it. So I never told anyone in New York that I had this Jewish background. I didn't want to suffer the rejection that I had before," says Edmands, who has lived in Lawrence since 1986.
The stories of people like Edmands are well known to Alan Berger, Raddock Eminent Scholar Chair for Holocaust Studies at Florida Atlantic University.
Berger has taught and written widely about the Holocaust, focusing on the experiences of the children of survivors as well as the lives of those who were hidden children.
"Some were lucky," Berger says of the latter group, "but some were not so lucky. They lived, but there were traumas that lasted a lifetime."
Berger will present a talk, "Hidden Children: The Trauma of Survival," at 7:30 p.m. Thursday at the Lawrence Jewish Community Center, 917 Highland Drive.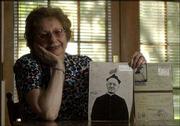 The free public lecture is a feature of the 2003 Multicultural Literature Institute, organized by the English department at Kansas University.
Berger is in Lawrence to lead an intensive summer seminar on Holocaust literature for graduate students and high school teachers that began Monday and ends June 27.
Profoundly affected
Edmands could be considered one of the more fortunate hidden children. She was able to remain with her parents during the war, and they all survived.
A Roman Catholic priest -- L'abbe Claudius Longeray -- hid the family from 1942 to 1945 in the rectory of St. Martin, a mountaintop parish in Annecy, France.
Edmands' parents, Hugo and Ella Rapaport, hid inside an unused boiler room in a sub-basement of the rectory throughout those years.
But Edmands, thanks to a forged French identity card that did not label her as a Jew -- was able to hide in plain sight in the village, attending school and serving as a shepherdess for the priest.
It was much more common, according to Berger, for hidden children to be separated from their parents to survive. That was a fate harder to bear.
"Many hidden children were profoundly affected, in the sense of their identity, by the hiding experience. After the war, the younger children -- and some were hidden (among Christians) as infants -- didn't want to go with their birth parents because they didn't know them," Berger said.
"They knew the foster parents; those are the people who had saved their lives, who had nurtured and sustained them. These (separations) are incredible traumas the children have suffered."
In many cases, those who were hidden as children -- left by their parents in the care of Christian families, priests or nuns -- had no one to go back to when the war ended.
The Rapaports emigrated to the United States in 1948. Edmands' paternal grandparents, Samuel and Antoinette Rapaport, died in the Holocaust.
Psychological trauma
Edmands said felt she was alone in her wartime experiences for many years. Then she participated in May 1991 in New York City at the First International Reunion of Children Hidden During World War II. The gathering included 1,600 hidden children, as well as 20 Christian rescuers from across the United States, Europe, Australia and Israel.
The conference was to help participants recall details of their past and understand how their time in hiding had shaped their lives.
"It was helpful because I saw that my experiences were not unique to me, and that all of the psychological traumas were common to so many of us," Edmands said.
Edmands was not raised in a religious home. Influenced by the example of kindness set by the priest who saved her family, Edmands became an observant Christian in 1952.
She is a member of First Baptist Church (ABC), 1330 Kasold Drive, and serves as a volunteer administrative assistant.
Alan Berger will present a talk, "Hidden Children: The Trauma of Survival," at 7:30 p.m. Thursday at the Lawrence Jewish Community Center, 917 Highland Drive
Copyright 2018 The Lawrence Journal-World. All rights reserved. This material may not be published, broadcast, rewritten or redistributed. We strive to uphold our values for every story published.