Don Phipps remembers childhood tales of the Soviet Union, America's Cold War enemy. Secret wiretaps. Arrests without trials. Neighbors spying on neighbors.
Now Phipps is afraid the United States is treading down the same path after the 9-11 terror attacks. He says new laws like the USA Patriot Act which expanded government surveillance and information-sharing powers threatened civil liberties.
And he sees confirmation of his fears in the yearlong detention of U.S. citizen Jose Padilla, the alleged "dirty bomber" who has not seen a lawyer since his arrest.
"These are the kind of tactics I associate with Joseph Stalin, not our current government leaders," Phipps said.
Those fears are why Phipps and a small group of Lawrence residents have started the Lawrence Bill of Rights Defense Committee. The group's aim: Persuade local governments not to cooperate with the federal government in enforcing the Patriot Act and similar new laws.
"Basically, a lot of us want the Constitution of the United States to be upheld," Phipps said. "We don't like to see our rights taken away."
'Certainly concerned'
Local elected officials won't tip their hands on how they'll react to the new group's request. Mayor David Dunfield declined comment; Commissioner Mike Rundle said he wanted to see the proposal.
"I'm certainly concerned that in the course of any government activity, whether it's in the course of local police or federal homeland security, that we not trample on that which we're supposed to be defending our civil liberties," Rundle said.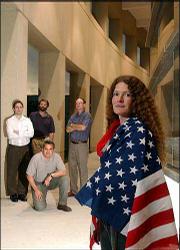 But he said he wanted to hear what the general public had to say about the proposal before making a decision.
Federal officials, reacting to the growing number of cities criticizing the Patriot Act, said the law had been useful.
"The Patriot Act has been an invaluable tool in the government's efforts to prevent terrorist attacks," Justice Department spokesman Jorge Martinez told the Associated Press last month. He said the act was constitutional and was being used only against people suspected of acting as agents of a foreign power or foreign terrorist organizations.
Still, more than 120 cities across the United States have passed resolutions condemning the Patriot Act or declaring noncooperation. Many cities have posted signs in their libraries, warning patrons the federal government could check on their book selections.
Frequent cooperation
Rich Wenzel, another member of the Bill of Rights committee, said local opposition was useful in sending a signal to the federal government.
"It's a form of countrywide cohesiveness to let the government know that this is not what we the people wish," Wenzel said.
Lawrence Police Sgt. Mike Pattrick said Thursday he could not comment on what assistance his agency may have provided federal officials under the new terrorism-related laws.
"We do assist all types of law enforcement," Pattrick said. "And we do adhere to all laws."
City Manager Mike Wildgen said, "We cooperate with federal agencies all the time. Whether it was under the umbrella of this particular act, I really couldn't tell you."
Assistant City Manager Dave Corliss wouldn't say whether the city has the authority not to cooperate with federal officials.
"The City Commission has not directed staff to review this issue," Corliss said.
But they may. Committee members say they hope to build a grass-roots coalition of local organizations that will make the case to the commission in September.
And Phipps said similar campaigns were organizing in Johnson County.
"We're hoping that, eventually, if we can pull this off, it will represent a groundswell of support from across the state," Phipps said.
Copyright 2018 The Lawrence Journal-World. All rights reserved. This material may not be published, broadcast, rewritten or redistributed. We strive to uphold our values for every story published.