After spending $10,000 to hoist a flag, then another few hundred to fight off legal challenges to the display's very existence, the Rev. Scott Hanks figures he can raise another $60 to file the paperwork to keep Old Glory flying high above his church northwest of town.
Far too many others have paid too high a price to back down now, he reckons.
"As Americans, we have a special fondness for the flag," said Hanks, pastor of Heritage Baptist Church, 1604 E. 1100 Road. "Even back to the story about Francis Scott Key when he wrote the national anthem, he could feel it: When the smoke would clear, that the flag would still be there.
"Today, there's still that emotion of the people that died to protect our freedom. You still feel that."
Such emotions are particularly appropriate today, which is National Flag Day. Back on June 14, 1777, the Continental Congress resolved "that the flag of the United States be made of thirteen stripes, alternate red and white; that the union be thirteen stars, white in a blue field, representing a new Constellation."
But 226 years later, the Founding Fathers could not have imagined that an updated, 600-square-foot version of the U.S. flag would be at the center of a regulatory ruckus in Douglas County.
The giant flag billows atop an 80-foot-tall pole at Heritage's 26-acre campus, northwest of the Kansas Turnpike's Lecompton interchange. The flag stays up around the clock, illuminated at night by six lamps mounted on 12-foot-tall poles.
The glare prompted at least five complaints from neighbors, whose calls to Douglas County officials lit the fuse on what became an explosive debate.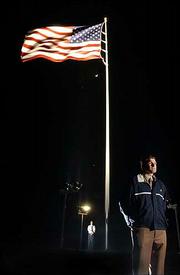 Keith Dabney, the county's director of zoning and codes, told Hanks the flag was illegal because the display particularly its bright lighting was not included on the church's original site plan. Such zoning violations are punishable by fines of as much as $500 a day.
Hanks, whose 300-member congregation put up $10,000 to create the display, had a choice: Take the flag down or put up a fight.
Turns out it wasn't much of a choice. With support from his church, the American Legion and other flag-supporting individuals and organizations, Hanks still keeps the Stars and Stripes flying high.
And county officials aren't touching the issue with an 80-foot pole.
"I don't think this County Commission would ever be in a position to make them drastically take it down," said Jere McElhaney, a Douglas County commissioner whose district includes the church site. "We like to work with people and it's going to work out fine. We stepped in and did our jobs. We'll work this out and get this flag to fly."
Hanks said he was working with church members to add the display to the church's site plan. Hanks will pay the $60 filing fee to get it before the commission for formal approval, likely within a couple of weeks.
The ordeal has given Hanks a chance to reflect on the flag's importance.
"It goes back to being a symbol of our American heritage," he said. "Fewer and fewer people are being patriotic today, and the reason is they don't know about the fight to ensure our freedoms.
"A woman called me and asked, 'How can you fly a flag at a church? It's a symbol of war.' And I said, 'Hey, lady, you wouldn't have the freedom to say what you're saying if you didn't live in America.' That's why this is so important. We can't forget that. We need to keep this in front of us for generations to come."
Copyright 2018 The Lawrence Journal-World. All rights reserved. This material may not be published, broadcast, rewritten or redistributed. We strive to uphold our values for every story published.