Wichita — If there was any doubt Free State High's boys 4x800-meter relay would win its third straight state title, sophomore Danny Schneider erased it in a matter of minutes.
Two minutes, actually.
The Firebirds entered the race at Saturday's state track and field meet in Wichita as the prohibitive favorite, no surprise considering they're the only team to run sub-8 minutes this year.
Yet, despite beating runner-up Blue Valley North by nine seconds with a winning time of 8:00.22, the outcome was murky during sophomore Alex Rock's lead leg. Rock ran well, but the pack never separated, which slowed his hand-off to Schneider.
"When he came in, he had to go way outside because nobody was lined up where they were supposed to be," Schneider said. "Once I got it in lane three or four, I had to go right to lane one."
Rock said usually in the 4x800 there was separation between runners so the hand-offs weren't so contested. With seven teams handing off at the same time, FSHS went from third to seventh in a matter of five yards.
"Everyone wants to be in front for that first hand-off," Rock said. "In this race there was just so much congestion."
Schneider, who usually runs about a 2:02 split, ripped off 2-flat while avoiding clumps of runners. With 200 meters left, he caught Blue Valley North's runner, and provided the Firebirds' third leg, senior Hiral Bhakta, with nearly 10 meters of breathing room. From there, Bhakta and senior Adrian Ludwig kept FSHS in front for the win.
Schneider's two minutes were the breaking point.
"Danny ran really well," FSHS coach Steve Heffernan said. "I think Danny has a lot in him that he doesn't even know yet."
The 4x800 wasn't the city's only standout, though.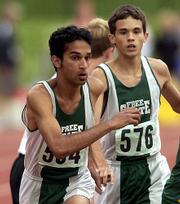 The FSHS girls finished sixth overall and the boys were 10th. Lawrence High's boys, on the strength of four medal performances from senior Chris Fulton, were seventh, while the girls finished 12th.
FSHS claimed individual titles from Ludwig in the 800 and junior Sam Frisbie in the girls high jump, while Lawrence senior Audrey Pope missed a win in the 300 hurdles by just .2 seconds.
Pope, second last year, took the lead from Olathe North's Stephanie Dyke with about 20 meters left, but was nicked by Junction City's Alisha Mintz at the finish. No shame there. Mintz already won the girls 100 hurdles earlier that day.
"It was there. I could feel it. But it's all right. She's fast," Pope said of Mintz, who also won the 100 hurdles. "I'm not trying to make excuses, because I don't want people to think I'm whining, but she's a respectable person to lose to."
That happened to the Lions more than once Saturday -- by even slimmer margins.
Fulton was second in the 100 and 200, both times to Overland Park Aquinas senior Drew Moreno. Fulton's 21.8 in the 200 was just .41 seconds behind Moreno's winning time, which was .1 second away from a 6A state record.
And the 100 was even closer.
Fulton and Moreno were neck-and-neck for the last 30 meters until Moreno out-leaned Fulton, winning 10.56 to 10.59. It was tough for the Lions, who came in with hopes of winning their first boys team title since 1997. When the boys 4x400 rolled around, the Lions were third on the boys side and fourth on the girls.
"We haven't been this close since we won in '97. We came in with chances, but we just never got everything going," LHS coach Jerry Skakal said. "I think that's what's so frustrating for us is we've always done that before. We expect it to happen.
"It's not like we had a bad meet, it just didn't happen like we hoped it would."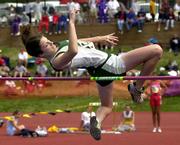 High enough
Frisbie gave the Firebirds their second-ever individual girls title, winning the high jump with a leap of 5-feet-4. She edged Blue Valley West's Jacyln Blake by virtue of having fewer misses on lower heights.
"I was trying to get into the same groove at meets when I didn't have any misses at 5-2," Frisbie said. "I just listen to music, do a little stretching before I jump and stay focused the whole time."
That's easier said than done when there's a stadium full of people watching.
"I just block it out. I try not to talk to anybody," she said.
Except when it comes to Heffernan's coaching advice.
"He's the only person I talk to."
Coming close
An all-out approach nearly paid off for LHS senior Dylan McClain.
He stayed on the heels of Blue Valley West's Paul Hefferon for most of the boys 3,200, then edged past Hefferon with about 300 meters left. But Blue Valley North's Grady Sullivan made a late move past McClain to win the gold. McClain ran a personal best 9:21.95 -- his best time in two years -- just .75 seconds behind Sullivan.
"There really wasn't a strategy," McClain said. "I knew he'd set the pace because he does that at every race. I just wanted to hang with him as long as I could. I didn't think I'd be able to, but it was do or die.
"I thought I was going to get him, too. With about 70 meters, I gave a grunt, but he matched it. He's fast."
The dominator
After anchoring the FSHS boys 4x800 relay, Ludwig smoked the 800 field. Of course, with a personal best two seconds faster than anyone else, the rest of the field knew it was an uphill battle.
"Guys were coming up to me asking me how fast they wanted me to run that first quarter. They were serious too," Ludwig said. "I said don't do that, just try to win it for yourself."
He and Shawnee Mission West's Jeff Daniel stormed to an early lead, with Ludwig on Daniel's heels. But with about 500 meters left, Ludwig grew concerned that Daniel wouldn't fall behind -- so Ludwig kicked it up a notch, clocking in at 1:53.58. That's three seconds faster than second place and about a second off the 6A record.
"It felt great, actually," Ludwig said. "I was going in thinking about the record, but once I hit the 200, I was just thinking about gold."
With two medals, Ludwig became the first FSHS athlete to have more than one gold at state.
Other boys medalists Saturday included Bhakta (sixth in 3,200), FSHS sophomore Ryan Rastok (seventh in 300 hurdles) and FSHS junior Tyler Morgan (seventh in discus). Girls medalists were LHS freshman Amy Magnuson (third in 100 hurdles), FSHS senior Kelley Perme (fifth in 100 hurdles), FSHS freshman Alysha Valencia (sixth in 1,600, fourth in 3,200), the FSHS girls 4x800 (fifth) and FSHS junior Lacey Baxter (fifth in pole vault).
Copyright 2018 The Lawrence Journal-World. All rights reserved. This material may not be published, broadcast, rewritten or redistributed. We strive to uphold our values for every story published.