For two months, Kansas University professor Dennis Dailey has been waiting for a legislator -- any legislator -- to call and ask what really goes on in his controversial "Human Sexuality in Everyday Life" class.
He's still waiting.
"No one's called," he said, pointing to the telephone on the far corner of the desk in his book-lined office at KU's School of Social Welfare.
If a legislator had called, Dailey would have shared that in last semester's class alone, 11 female students let him know they were recent date-rape victims. And two male students who had date-raped and were "feeling enormous shame and guilt" asked him for help in finding someone to counsel them.
"That's typical for this class," Dailey said. "A lot of students are in it not just to learn, but to do some healing."
He would have reminded the legislator that more than half the state's marriages still end in divorce, and that studies have consistently found that about half of all divorces involved sexual falsehoods, dysfunctions or the unresolved consequences of past abuse.
"Probably 40 to 50 percent of the students in my class are the products of failed relationships. They've grown up seeing their parents quarrel over issues that are often sexual in nature," Dailey said.
"So when they get to my class, they listen up because their expectations are that they're likely to repeat their parents' relationships. They'd like not to do that -- I'd like them not to do that."
Breaking his silence
Then, he would have assured the inquiring legislator that contrary to the charges leveled by Sen. Susan Wagle, R-Wichita, and Jessica Zahn, a student in last semester's class who also is Wagle's legislative intern, the course was more about learning how to recognize and maintain positive relationships than about sexual intercourse.
He would have refuted each of Wagle and Zahn's latest allegations: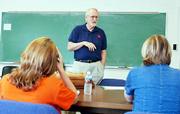 l Yes, the videos he shows in class are explicit -- but they're hardly pornographic. They're not required viewing.
l No, he's not soft on pedophilia.
l And, no, he doesn't harass his students.
Until now, Dailey has resisted saying much about Wagle, Zahn and the controversy surrounding the class.
Dailey explained: "My brother, who's a professional skin diver, taught me long ago: 'If the sharks are feeding, you don't go swimming.'"
But now that Gov. Kathleen Sebelius has decided not to veto Wagle's latest proviso -- the one that ordered KU to spell out its policies on showing videos depicting sex acts, talking about pedophilia and protecting students from sexual harassment -- and the Legislature has adjourned, Dailey wants his say and views known.
'Dramatic' symbolism
He's disappointed in Sebelius, who vetoed an earlier Wagle amendment that would have wiped out the School of Social Welfare's $3.1 million budget if Dailey kept showing videos that Wagle called pornographic.
But Sebelius last month let a newer Wagle-introduced proviso stand, saying its effect on the university would be "slight."
"She's right, the content of the proviso is zip," Dailey said. "But the symbolism is dramatic. Signing it into law gives credibility to the actions she originally took offense to. She can't have it both ways."
Not surprisingly, he's disgusted with Wagle's tactics.
"The two words I most often use to describe this experience are 'frightening' and 'hurtful,'" he said.
It's been frightening, he said, because as a teenager coming of age in the 1950s in northern Minnesota, he clearly remembers listening to live radio broadcasts of Sen. Joe McCarthy interrogating suspected communists before his infamous committee on un-American activities.
Wagle's tactics, Dailey said, reminded him of McCarthy's.
"The bullying, the red herrings, the whole are-you-still-beating-your-wife? approach -- that's McCarthyism," he said. "I find it truly amazing that the huge weight of evidence that's to the contrary of what she's saying has had absolutely no impact on her thinking."
Plain lies
Much of the evidence was spelled out in a recent investigation conducted by David Shulenburger, KU provost and executive vice chancellor, who found Wagle's allegations "do not have merit."
Wagle called the investigation a "whitewash."
Dailey cited Shulenburger's finding that in the past five years, 1,250 of Dailey's students rated him as excellent; just four said he was poor.
"That doesn't bother her? That's amazing -- that's McCarthyism," Dailey said.
Especially hurtful, Dailey said, was Fox News Channel's "The O'Reilly Factor" allowing a woman who claimed to be a former student to appear on the show anonymously. She claimed that in 1994 Dailey told her class he became sexually aroused when he hugged his daughters' "hard bodies."
Dailey said he didn't know the woman and doubted she took the class.
"That was never said -- nothing even close to that," he said. "Never."
Later in the show, commentator Bill O'Reilly said Dailey was obviously a pedophile.
"That was particularly disturbing," Dailey said. "Not only was that a gross distortion of the content covered in that particular class -- it was a conscious manipulation of the language for mean-spirited purposes. There's no way anyone can defend themselves against something like that.
"It's a red herring," he said. "They're not stupid, they know what they're doing, just like McCarthy knew what he was doing."
Dailey said he would "resign on the spot" if his students truly felt he was soft on pedophilia.
Daughter 'stunned'
Dailey and his wife, Judy -- he prefers the term "partner" -- have been married 43 years.
The oldest of their two daughters, Lisa Dehon, 41, is a lawyer. She and her husband live in Olathe.
The Dehons watched "The O'Reilly Factor" the night O'Reilly called Dailey a pedophile.
"I was stunned," Dehon said. "I couldn't believe they could be so sloppy and get away with it. And then at some point I realized they were more interested in entertainment than getting at the truth."
Dehon said she had "set the record straight" with everyone she knows.
"I bring it up," she said. "I want to know what people are thinking and I want them to know the truth."
Dehon said her sister, Amy Cooper, had been "extremely hurt" by Wagle's allegations and O'Reilly's exaggerations.
Cooper, her sister said, "has a more idealistic take on things. She's surprised when people are less than honorable. She's really struggled with this; it's been a real quick lesson for her in how politics can work."
Cooper, who teaches math at Baldwin Middle School, and Judy Dailey declined to be interviewed, noting Dehon would speak on their behalf.
He'll be back
Dailey, 64, joined the School of Social Welfare faculty in 1969. He's taught courses on human sexuality since 1973.
Now in semiretirement, Dailey will teach "Human Sexuality in Everyday Life" in the fall semester. Whether he teaches the course in the spring remains to be seen.
"I haven't decided," he said.
Dailey, who is tenured, insisted he wouldn't let Wagle's proviso affect the course's content or his teaching style.
"I will teach that class exactly as I always have," he said. "To do otherwise would be a betrayal to both the students and to my philosophy."
His philosophy calls for helping students find both money-making vocations and the satisfaction that comes with being in a meaningful relationship.
"I have a very simple goal for my class," he said. "It's to expose students to information they can use to examine own attitudes and beliefs in ways that -- if they challenge themselves -- will help them avoid ending up divorced or in an unhappy marriage."
Copyright 2018 The Lawrence Journal-World. All rights reserved. This material may not be published, broadcast, rewritten or redistributed. We strive to uphold our values for every story published.