How do you play with a 250-pound pig?
"You can roll a small tree trunk to him, and he'll roll it right back," said Kahlyn Heine, 13, as she took a break Wednesday afternoon from taking care of two pigs she entered in competition at the Douglas County Free Fair.
"I can snort at them, and they'll snort back," Katie Gaston, 13, said. "They each have their own personalities. You can communicate."
The pigs are just a small sampling of animals that have taken up temporary residence this week at the Douglas County 4-H Fairgrounds. The porkers had their turn before the judges Wednesday night.
Kahlyn and Katie, both from the Clinton area, have raised and brought pigs to the fair in years past. But Kahlyn's sister, Kirsten Heine, 10, was showing her pigs for the first time. Like her sister, she had two pigs at the fair.
"I'm kind of nervous," Kirsten said a few hours earlier. "You never know what your pig is going to do."
Katie agreed. "Last year my pig got away from me," she recalled.
Why would three girls want to raise pigs?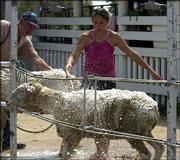 "I heard that pigs were the easiest of the animals," Kahlyn said. "I guess that's true sometimes."
Melissa Colgan, however, prefers heifers and steers. The 16-year-old western Douglas County girl spent Wednesday watching over and cleaning two Simmental heifers, a Simmental steer and a crossbreed steer. Melissa has been raising cattle for the past several years.
"I found out you had to get out there and really work with them if you want them to look good," Melissa said. "It really keeps you busy during the summer."
In addition to being a load of responsibility, cattle require a lot of patience, Melissa said.
A short distance away Wyatt Schumann, 9, kept an eye on his heifer, Lucky, and steer, Corny. Wyatt agreed that it was a lot of work to take care of cattle. After all other chores are done, there is always one more task to take care of, he said.
"I have to check on them in the daytime to make sure they're not lying in poop," he said.
Wyatt's parents, Bryce and Gina Schumann, of rural Lecompton, were with their son.
"We help, but he can do it all," Bryce said. "When you have a 1,200-pound heifer, sometimes he needs a little help.
Copyright 2018 The Lawrence Journal-World. All rights reserved. This material may not be published, broadcast, rewritten or redistributed. We strive to uphold our values for every story published.