Box by box, document by document, Jean Bischoff is learning about a Kansas native son.
Bischoff is the Dole archivist at Kansas University. She's leading a team that is sorting through the 4,000-plus boxes of papers and other materials from former U.S. Sen. Bob Dole's political career, preparing them for scholarly research. Each document will be put in a computer database for easier searching.
"I was familiar with his presidential run, but I had no idea how involved he was in so many congressional issues, and he's this guy from a little town in Kansas," Bischoff said. "The more I know about him, the more remarkable I realize he is."
Bischoff came to KU in 2001 from the University of South Carolina, where she was cataloging a 25,000-photograph collection of Works Progress Administration images for the National Historical Publications and Records Commission.
A little bit of everything
Since summer 1997, Dole's papers have been housed in the basement of KU's Spencer Research Library. They recently were moved into the basement of the Dole Institute of Politics building, which has two miles of shelving in 12,000 square feet of climate-controlled storage space.
The Dole papers will take up about 5,000 square feet of the space, leaving room for papers from other politicians.
Dole kept every letter he received from constituents, internal staff memos, information on service academy appointees, campaign literature and just about everything else from his career.
According to institute officials, it's the largest political archive outside presidential libraries. It's 60 percent larger than the Hubert Humphrey papers at the Minnesota Historical Society and six times larger than Tip O'Neill's collection at Boston College.
"I shipped about 4,000 boxes of paper out there," Dole said in a recent interview. "I guess I must have saved more than anybody. I'm certain a lot of it's not important, but if people want to go back and look at a legislative career, write a book, do research, it's going to be available."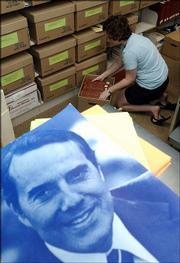 Bischoff attributed the size to several factors.
"He was in there a long time," Bischoff said. "And he had more because he was majority leader and Republican Committee chairman. Plus, he kept everything -- every handwritten note, every memo, every clipping his staff gave him."
The collection isn't just papers. It's 25,000 photographs, posters and other campaign materials, films and tapes of events and other items.
There's plenty of unusual materials: whiskey bottles left over from the 1976 Republican National Convention; teeth Dole had pulled through the years; a racing helmet signed by NASCAR drivers; and a necktie from Viagra, for which Dole served as a pitchman.
"I find it endlessly interesting," Bischoff said. "You can open any box, and you don't know if you're going to find a note from a president in his own handwriting or a letter from a constituent."
Bischoff said the materials would be a treasure trove for researchers looking into Dole's life and Kansas politics, and she said they also could provide a wealth of knowledge on any issue on which Dole worked.
However, don't expect to have access anytime soon. The portions of the collection that already are in the public domain -- including press releases, copies of speeches and some photographs -- will be open immediately. But the majority of the papers aren't scheduled for public release until 2006, 2011 or 2016.
Other, more sensitive materials -- such as post-Senate papers, family papers and correspondence, and casework related to specific individuals -- won't be opened until even later.
Bill Crowe, Spencer librarian, said Dole's papers were kept in neat order over the years, making it easier for KU to enter them into a database and organize them.
Although the Dole Institute is about more than the collection, Crowe said all the programming could be attributed to the papers' presence.
"I'm so proud the papers are here," he said. "They've become a fulcrum or a catalyst for the institute."
Copyright 2018 The Lawrence Journal-World. All rights reserved. This material may not be published, broadcast, rewritten or redistributed. We strive to uphold our values for every story published.