On a recent Saturday afternoon, Richard Norton Smith tore open a manila envelope, unsheathing three black-and-white photographs of men in Army uniforms.
"A woman sent in her husband and two brothers," said Smith, director of the Dole Institute of Politics. Then he let out a long sigh.
The photos were intended for the Memory Wall at the Dole Institute, which will feature 960 photos of Kansans who served in the war. The institute already has received more than twice that number, but the photos keep coming in.
"We really touched a chord with the Memory Wall," Smith said.
In some ways, the wall represents what Smith hopes the Dole Institute of Politics will become -- political academia that appeals to the masses.
It's similar to the approach Smith takes when writing books or appearing on television -- he's one of a handful of American "celebrity scholars" who realize most people will only learn about politics and history if it's given to them in a digestible form.
"He's extremely well-read and knowledgeable, but he can talk it," said Brian Lamb, the founder and CEO of C-SPAN who is a friend of Smith's. "He understands culture, and can match that with history. He presents history on people's terms, not a historian's terms."
Outsider on the inside
Even after 19 months on the job at the Dole Institute, Smith, 49, considers himself an outsider at KU.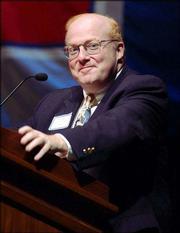 There are some obvious reasons he stands out:
l His accent, which obviously gives away his East Coast roots. He was born in Leominster, Mass.
l The ball cap he's often seen wearing around campus. It doesn't say "KU," it says "HARVARD," his alma mater. Add to that a pair of white Asics tennis shoes, polo shirt and shorts, and his office wardrobe is a little different from that of most Kansas University administrators making $150,000 a year.
l His commuting habits. Smith never learned to drive a car, so he's often seen walking downtown or bumming rides with co-workers. Conveniently, he's lived upstairs in the Pinet House at 12th and Indiana streets, the temporary home of the Dole Institute, since he arrived in Lawrence in December 2001. He plans to move out by early fall, though he's not sure where he'll live.
l His national notoriety. Aside from sports figures, Smith is probably the most famous person at KU. He makes frequent appearances on C-SPAN, PBS's "NewsHour with Jim Lehrer" and other programs. His resume includes books about Harvard, Thomas Dewey, Herbert Hoover, George Washington and Robert R. McCormick. He also helped write the joint autobiography of Bob and Elizabeth Dole, and two books of political humor with Dole.
When Jimmy Carter and Walter Mondale defeated Gerald Ford and Bob Dole in the 1976 presidential election, it marked the first time Dole had been defeated in a political campaign.
Strong connections
The news Smith would direct the Dole Institute raised many eyebrows when KU announced it in August 2001.
After all, his background included leading the libraries and museums of former Presidents Ford, Hoover, Reagan and Eisenhower. But Smith said he wasn't concerned about the perceived "step down" in stature.
"I really don't think about it in those terms," Smith said. "I've had the luxury of having a lot of opportunities. A lot of things have just happened to me. I don't try to connive to get this job or that job to put me in a better position."
Much of his decision to come to KU was driven by his relationship with Dole. The senator hired Smith as a speechwriter in 1978, three years after his Harvard graduation. The two have remained friends since.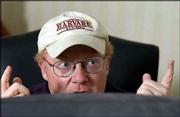 "If you get frustrated and the day is long ... you have to remind yourself why you're doing this," Smith said. "The best thing to fall back on is Dole and that relationship. I've never found my loyalty to Dole come in conflict with my loyalty to KU."
Smith also came to KU, he said, to shape a new organization instead of taking the helm at an established one, as he did at the presidential museums.
"It's very different," he said. "It's a different phase of the development. It's really starting something from scratch, which emphasizes the creative side of the process, rather than walking into a mature institution that was sometimes dead in the water. This gives me the opportunity to define an institution."
Showman
But Smith has expressed frustration during recent months about some bureaucratic restrictions that are part of a university. He's butted heads occasionally with administrators over institute dedication events. He's frustrated they're not more helpful in the planning; some administrators are frustrated with the extra work and the vision Smith has without providing extra resources.
Reed Whitaker, regional administrator for the Central Plains National Archives and Records Administration, knows Smith can be demanding to work with. The two were co-chairmen of the events surrounding the centennial of Dwight Eisenhower's birth at the presidential library in Abilene.
"Richard is both easy and tough to work with," Whitaker said. "When we did the Eisenhower centennial, we didn't step on each other's toes. He has these visions about what he wants to see done, and he's willing to accept other ideas. However, once the decision's made, he moves ahead, and that's been tough working with him."
But Whitaker said that, such difficulties aside, Smith is a showman who knows how to entertain.
"We jokingly refer to him as the ringmaster, because he concentrates on high-profile events that will bring the public into the facility to experience it first-hand," Whitaker said. "He's P.T. Barnum, in a lot of ways. He's the P.T. Barnum of history."
Stay or go?
Another frustration for Smith has been the lack of progress on his biography of Nelson Rockefeller. The first draft is due in July 2005, and the Dole building and dedication have taken most of his time since coming to KU.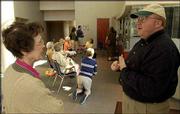 "A lot of people come to a university believing it's the ideal place to do research and write," he said. "I've not had as much time to do that as I'd liked."
Because of the book deadline -- and his short tenures at the Eisenhower and Reagan libraries -- some at KU have speculated Smith would open the building, stage the dedication and leave for other opportunities.
But Smith insists he plans to stay.
"I have no plans to do otherwise," he said. "My plans are really going to be determined by the level at which the university and Endowment Association commit themselves to securing the institute's long-term future. I plan on being here and holding people to those commitments."
Smith has said the institute needed an endowment of at least a $20 million to function properly, or about $16 million more than the current amount. Chancellor Robert Hemenway recently said from $25 million to $30 million would be a good target.
That financial support may be one of the keys in determining whether the Dole Institute is a nationally known center for political discussions, or a little-known building on west campus.
Lamb, the C-SPAN executive, noted that most people couldn't name a political institute or archive named after a congressman who never became president.
At least 10 exist, for such figures as former House Speaker Tip O'Neill of Massachusetts and Sens. George Mitchell of Maine and John Glenn of Ohio. Lamb said if anyone could catapult the Dole Institute to a national level, it would be Smith.
"He's an interesting person," Lamb said. "He always puts on a great show -- that's his stock and trade. He's well-respected among historians. He's not an academic. He makes that very clear."
Richard Norton Smith, 49, is a nationally recognized authority on the American presidency. He became director of the Dole Institute of Politics in December 2001.Born in Massachusetts, he graduated from Harvard in 1975 with a degree in government.He was a speech writer for U.S. Sens. Edward Brooke, R-Mass., and Bob Dole, R-Kan., with whom he's written three books.Smith has authored five major books, and his first, on Thomas E. Dewey, was a 1983 Pulitzer Prize finalist. His biography of publishing legend Col. Robert McCormick received prizes and praise from many corners.He has directed operations at four presidential foundations and museums involving Presidents Herbert Hoover, Ronald Reagan, Gerald Ford and Dwight Eisenhower.
Copyright 2018 The Lawrence Journal-World. All rights reserved. This material may not be published, broadcast, rewritten or redistributed. We strive to uphold our values for every story published.