Their numbers are rapidly dwindling, but what the military veterans of World War II did 60 years ago and how they did it won't be forgotten as long as living history re-enactor groups keep the old units alive.
More than 50 World War II re-enactors will be in Lawrence this weekend for dedication ceremonies marking the opening of the Dole Institute of Politics at Kansas University. They will set up camp, display their uniforms and equipment, and answer questions.
"It's not that I'm trying to relive what those guys went through, but I see it as a way to honor them and get some sense of what they did," said Dan Fullerton, 33, a history teacher at Shawnee Mission Northwest High School.
Fullerton is a member of a living history group that portrays a Kansas National Guard unit, the 137th Regiment of the 35th Infantry Division. The unit fought beginning with the Normandy invasion to the collapse of Nazi Germany.
Another re-enactment group portraying the Army's 10th Mountain Division also will be encamped for the dedication. Former U.S. Sen. Bob Dole was serving in the 10th Mountain Division when he was severely wounded during combat in Italy.
In addition, the Kansas City Military Vehicle Preservation Assn. will display World War II-era vehicles, including a Sherman tank, a tank destroyer, ambulance, motorcycles and Jeeps.
Fullerton, who is working on his doctorate in military history at KU, said he became involved with the re-enactors three years ago. He has been a collector of military items since he was a boy.
"This is my way of combining my passions," Fullerton said.
There are about 35 re-enactors of the 137th who live in Kansas and Missouri. That's about the size of an infantry platoon with three squads. Members buy their own uniforms, equipment and weapons. They try to obtain items that date back to the war. If that's not possible, they buy reproductions.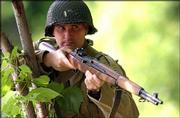 The cost of equipment is about $1,000, with the weapon being the most expensive at $400 or $500.
The guns are primarily M1 Garands and M1 Carbines, although some members carry Browning Automatic Rifles. Blanks are fired during re-enactments.
The 137th also has a squad that handles a 60mm mortar. The mortar is real, but the firing pin has been removed. The mortar is able to fire foam or Nerf-type balls, members said.
"It's all pretty realistic," said Dave Hruska, of Leavenworth, a member of the 137th. "You find out what it is like to dig a foxhole and sleep in a tent -- you just don't get killed."
Hruska, however, is no stranger to military life. A West Point graduate and Army tanker, he is a retired lieutenant colonel. He noted that the 137th allowed visitors at their displays to touch and pick up the equipment.
"We are a hands-on unit," Hruska said. "We enjoy talking about it. Sometimes an old veteran will come up and talk about the things they used to wear and do. You learn a lot of things from them that you don't read in history books."
What: WWII re-enactors.When: During daylight hours on Sunday and Monday.Where: South of the Dole Institute on KU's west campus
Dave Little, president of the 10th Mountain group, said one of the primary reasons he became involved with re-enacting 20 years ago was to meet the veterans.
"I find it fascinating to meet and talk to those guys," Little said.
The 10th Mountain re-enactors are primarily from Colorado, where the unit originated in World War II.
Although the 10th Mountain has performed re-enactments for Dole before, few, if any, of the members have had a chance to talk to him personally, Little said. He hopes to get that chance in Lawrence.
There will be no combat re-enactments during the Dole Institute ceremonies. The groups plan to set up camps and display their equipment.
Copyright 2018 The Lawrence Journal-World. All rights reserved. This material may not be published, broadcast, rewritten or redistributed. We strive to uphold our values for every story published.