Craig Liskey wore a sombrero with a $1 bill pinned to the front.
An entertainer calling himself "Balloonman" wore rainbow suspenders, black socks and red high-top shoes.
At least one person wore a bikini.
Downtown Lawrence was no ordinary place during Thursday's all-day sidewalk sale as bargain hunters, impulse shoppers, barking vendors and sweaty pedestrians crowded the sidewalks.
"We've got jewelry! We've got fishing tackle! We've got sheet music!" Liskey shouted in front of the Lawrence Antique Mall, 830 Mass., where he was selling a table full of $1 merchandise. "You walk past this booth, you're going to regret it for the next four seconds!"
As of noon, Liskey estimated he'd sold about 100 items.
On the same block, a man calling himself "Balloonman" was busy twisting red and green balloons into the shape of a rose for 9-year-old Johnetta Franklin, whose mother, Yolanda, stood waiting nearby. Yolanda Franklin said she'd spent $300 so far -- much of it on discounted shoes for her family -- but had no idea how long she'd been wandering the streets.
"I think I took my watch off so I wouldn't keep track of how long I've been here," she said.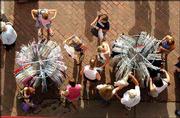 KU student Dane Norwood, who describes himself as a "professional Lawrence shopper," said his finds included a 75-cent compact disc from Kief's Downtown Music, 823 Mass.
"I got a book from these Buddhist guys and they gave it to me for free," he said.
For those who managed to get to Massachusetts Street before noon, an early rain had cooled off the first hours of the sale.
Lori Doemland-Smith, Columbus, Ohio, was in Lawrence visiting family and decided to check out the sale with her children. Doemland-Smith grew up in Lawrence, and remembers attending the sale yearly in much hotter weather.
"It's surprisingly cool," Doemland-Smith said of the weather around 11 a.m.
Workers at Prairie Patches, 821 Mass., came prepared for hot weather this year, although their preparations were unwarranted before the afternoon heat set in.
"We got our T-shirts and neck coolers, all ready for the hot weather, and it hasn't come yet," owner Cinda Garrison said.
Garrison said she had worried the morning rain had lowered the usual number of shoppers, but her sidewalk workers had reported being busy all morning.
"It always is a good day for us, and it's a good way to get people downtown and into the stores," Garrison said.
Even people who had to pay a toll came to the sale. Karen Harrison, Topeka, called her sister-in-law Chris Wempe as soon as she found out the exact date of the sale.
"They don't have anything like this in Topeka. Their downtown area is dead," said Wempe, who also is from Topeka. "We come to Lawrence all the time to shop, and we especially came today for the sale."
Copyright 2018 The Lawrence Journal-World. All rights reserved. This material may not be published, broadcast, rewritten or redistributed. We strive to uphold our values for every story published.