Val Smith was at Kansas University the early May evening when a tornado ripped through his southwest Lawrence neighborhood. He hurried to find what had become of his family's home on West 26th Street.
He was shocked.
"When I arrived the front window was blown out, gutters destroyed and 2-by-4s and pieces of plywood were sticking through parts of the roof and the ground," the KU professor recalled this week.
Now, eight weeks later, cleanup for the Smith family is far from over -- in fact, it has barely started.
The Smith home still has windows boarded up with plywood and plastic covering parts of the roof because repairs are incomplete.
"There is just so much to do," he said. "Our block had so much damage, our contractor said it could be mid-August before they could get to our home."
The Smiths are not alone.
Throughout the area that was hit May 8, many roofs remain covered with tarps and plastic, windows are boarded up and residents live every day with vivid reminders of the F-2 tornado that left behind downed utility lines and smashed cars and tossed debris as far as five miles. At Aberdeen South, the apartment complex hardest hit by the twister, three buildings still are being rebuilt.
In the days after the storm, members of the Lawrence construction industry estimated it would take from six to nine months for repairs and rebuilding to be completed.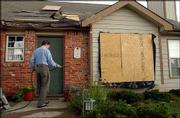 "Cleanup has been really slow, mainly because I have never done this before," said Lori Crabtree, who lives a block north of the Smiths on West 25th Street.
"I had to get three or four estimates and then choose which contractor to do the work, some of who did not even call me back," Crabtree said.
Smith's and Crabtree's homes are two of the 192 dwellings damaged by the twister, according to figures from Douglas County Emergency Management. Many of the damaged dwellings were apartment units in shared structures. One commercial building, the Raintree Montessori School at 4601 Clinton Parkway, also was damaged.
No one was killed by the destruction, and only a handful of minor injuries were reported. About 100 people were temporarily homeless. In all, official estimates put the total damage from the storm in the city and county at $6.39 million.
According to the National Weather Service, the storm produced three or four tornadoes as it moved toward Lawrence from near Pomona. In that evening's outbreak, tornadoes were reported in 28 Kansas counties.
That night, Crabtree arrived home to discover her chimney had been blown down. A tree that had been in her front yard was gone, too. But it was not until later that night that she realized the full extent of the damage.
"My mom called and said my sister who lives in Basehor was watching the news and saw a lot of damage to the back of my home," Crabtree recalled. "I walked back there and windows were blown out, debris had poked holes into the back and side of the house, and there was just stuff everywhere. It's just so funny that my sister was able to see what had happened to my house before I even did."
For Crabtree, the tornado taught this lesson: "People who you don't even know you come out during times like this and lend a helping hand," she said.
Smith agreed.
"Just hours after the tornado touched down we had people coming from blocks away show up to help us start boarding things up. It's nice to know that there are so many people in Lawrence that truly care for one another -- even when they don't know you. It just makes you feel good."
Copyright 2018 The Lawrence Journal-World. All rights reserved. This material may not be published, broadcast, rewritten or redistributed. We strive to uphold our values for every story published.