The person who's changed life most for Lawrence residents in recent years is a west-side developer, a speaker at a real-estate dinner said Saturday night.
Bob Billings, founder and head of Alvamar Development Corp., won the Lawrence Board of Realtors' 2002 Lifetime Achievement Award during the board's annual mixer at Lawrence Country Club.
Billings didn't attend the dinner, but he was praised by speaker Pat Flavin, a past board president.
Flavin credited Billings with having a vision for what could happen on Lawrence's west side, including the construction of three golf courses and the development of 3,000 acres.
"No individual has impacted the Lawrence lifestyle more than Bob Billings in the last 40-some years," Flavin told the crowd of about 200.
Caren Rowland of Coldwell Banker McGrew Real Estate won Realtor of the Year -- an award given for service and commitment to the profession.
"I love all of you. You're just great people to work with," Rowland said.
Leslie Foust, who presented Rowland's award, described her as a dedicated volunteer who's good at flipping pancakes and willing to "bend an elbow" for a margarita now and then.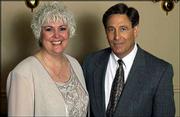 Russ Lang of Coldwell Banker McGrew won the Salesperson of the Year award.
"It truly is an honor for me to get this award," he said. "I really do enjoy the friendship and fun we can have on deals."
The board also installed its officers for 2003. They are president Paul Forio, president-elect Deborah McMullen, secretary Pam Riordan, treasurer Linda Boyd and past president Cheri Drake.
Drake, with $9 million in sales during 2002, received a certificate for having the highest sales volume in 2002.
Copyright 2017 The Lawrence Journal-World. All rights reserved. This material may not be published, broadcast, rewritten or redistributed. We strive to uphold our values for every story published.