Douglas County Dist. Atty. Christine Kenney is seeking the death penalty for Damien Lewis, a 22-year-old parolee accused of killing an elderly couple last summer in their east Lawrence home.
Kenney filed a motion during arraignment proceedings Thursday, asking Douglas County District Judge Michael Malone to schedule a separate hearing for sentencing Lewis if he is found guilty of capital murder.
The motion is considered a legal precursor to seeking the death penalty.
Asked several times by Malone whether he understood the charges filed against him, Lewis each time replied, "Yes."
Because Malone has issued a gag order in the case, Kenney is prohibited from commenting on her decision.
Lewis, who is from Newton, is the first person to face capital murder charges in Douglas County since Kansas reinstated the death penalty in 1994.
During the proceedings Thursday, Lewis and his attorneys declined to enter pleas, causing Malone to enter innocent pleas on Lewis' behalf. Lewis waived his right to a speedy trial.
Malone scheduled Lewis' jury trial for Oct. 27; it's expected to last from three to four weeks.
Malone also set a Feb. 6 deadline for filing pretrial motions. Responses are due Feb. 20. An all-day hearing on the motions is set for March 14.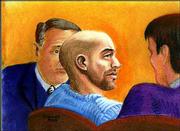 Lewis is accused of killing George "Pete" Wallace and Wyona Chandlee, both 71, during a July 10 burglary at the couple's house, 1530 Learnard Ave.
At Lewis' preliminary hearing last month, Lawrence Police Detective M.T. Brown testified Lewis had confessed to shooting Wallace and Chandlee with a handgun he'd found in the couple's master bedroom. Autopsy reports showed Wallace and Chandlee each were shot twice in the head.
Charges filed against Lewis include capital murder, first-degree murder, criminal possession of a firearm, aggravated burglary, and two counts of aggravated robbery.
In Kansas, prosecutors may seek the death penalty in cases involving kidnapping for ransom, contract murder, murder of a police officer, murder committed during and after sex crimes or multiple murders committed during a single crime.
Seven men have been sentenced to death in Kansas since lawmakers reinstated the death penalty in 1994. As yet, none has been executed.
Lewis' case is one of two affirmed death-penalty cases working their way through Kansas courts. The other, a multiple slaying involving two defendants, is in Wyandotte County.
John E. Robinson, convicted in Johnson County District Court of murdering two women and stuffing their bodies into barrels, was sentenced to death Tuesday.
Copyright 2018 The Lawrence Journal-World. All rights reserved. This material may not be published, broadcast, rewritten or redistributed. We strive to uphold our values for every story published.