MCPHERSON — There are times, Mil Penner admits, when he's tempted to lie down in the swatch of tallgrass prairie he has planted in his front yard and imagine what his ancestors saw when they first settled Section 27 more than 125 years ago.
Even after decades of wheat crops, when the light is just right, Penner can still see the swells and the draws that helped define the section when a plow first bit into the soil.
And he can only smile ruefully at the small lakes that have sprung up along section corners as nature shrugged at man's attempts to reclaim land and control drainage.
It seems only natural to him, then, that what started as a chronicle of family history evolved into a book about the only place the 73-year-old has called home: a one-square-mile piece of land that has been a part of his family since Ulysses S. Grant was president.
'A feeling of how it was'
While "Section 27: A Century on a Family Farm" follows a Mennonite farm family from the Russian immigrants who settled the land to the present day, it is less a memoir than a love letter to a place and a way of life that has gone the way of the threshing machine and the cream separator.
"I wanted to give them a feeling of how it was," Penner said, "but my main goal is an appreciation for the land."
Penner is perhaps best known for a collection of guidebooks on Kansas and for co-founding with his daughter Marci the Kansas Sampler Foundation, which works to promote and preserve rural culture. While he is careful to point out that the foundation and the book are not connected, the same spirit that spawned the foundation infuses the storytelling in "Section 27."
And it is striking a chord with readers.
The book has been available since September and already has sold out half of its first printing of 2,400 copies. That's remarkable for a specialty book, said Sara Henderson White, assistant director of University Press of Kansas, which published the book.
Penner and the publishers thought the book would be popular with younger people who are wondering how their grandparents or great-grandparents lived. Instead, University Press publicity manager Jessica Pigza said, "the story is really resonating with his peers. It's ringing true for all sorts of older people."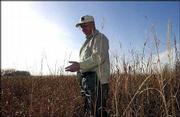 The book reads in part:
"The barn was a school of life in more ways than one, and we learned by watching and doing. When a barn door broke, I learned basic woodworking by helping Pop fix it. I developed physical coordination with a pitchfork, and knowing that the animals -- sheep and cows -- depended on me for food instilled responsibility. Instead of gymnastics, cleaning barn stalls built muscles. My sisters and I didn't have to be taught about the food chain or shown where a loaf of bread came from. We could see with our own eyes that food came from cows, chickens, pigs and the garden."
Pigza said: "That's not so distant from today, and yet it's so wildly different."
Ohio State University history professor Mansel Blackford is so impressed with the book that he will make it required reading for students in his upper-level course on the American West.
"It's that good," Blackford said. "He really makes it come alive. You read it and you feel as if you're right in the furrow with him."
Story of hard work
Penner admits he's happy to hear such things, but he is perhaps more pleased by the reaction of the coffee-cup crowd at Jerry's Cafe in nearby Inman. Men who rarely touch books are telling him they read it cover-to-cover.
"Except for the names and the places, that's my story," a farmer in northwest Kansas told him recently.
It's a story of hard work, family ties and persevering. Of marveling at the first cars that crawled along dirt roads. Of the isolated -- and insulated -- existence of not leaving the farmstead for days at a time. Of learning to help one another because that was the only way they could make it.
Penner decided to write the book when he realized that way of life was nearly gone, and future generations may never have the chance to understand and appreciate it if it wasn't recorded.
"I think one of the reasons people are liking it is that once they get into it, they find out it's everybody's roots," he said.
History is important to Penner: He shored up the 10-by-16-foot claim shack that still stands where it was built only a few years after the Civil War and was there when the first Penners came.
He still tends and prunes the rows of mulberry trees that grew from seeds his great-grandfather, David, brought from Russia.
"Every time I toss a piece of that wood into the fireplace, I remember 1875, when they planted those trees," he said.
That sense of connectedness to the past is more than just a novelty to Penner. He is convinced one of the reasons so many people feel restless and unfulfilled today is because they've lost touch with the land.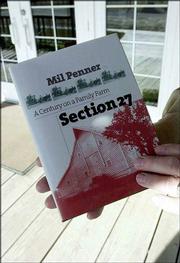 Farmers in years past didn't just work their land, he said, they got to know it: which areas were the most fertile, which spots would pull at the plow the hardest.
The land taught self-sufficiency and humility, he said.
"There's nothing that humbles a person more than a blizzard, and you're out in it, and you have to walk a mile in it," he said. "You feel your frailty."
Return to nature
He believes the best farmers, like the best leaders, are stewards -- not dictators -- of what they own.
That's why he's gratified that the Kansas Division of Wildlife and Parks has bought up land on and around Section 27 with plans to allow it to revert to the shallow lakes that were here for centuries until homesteaders arrived and drained the lakes to create as much workable farmland as possible.
As the water returns, so will the waterfowl that were once so abundant that special trains from Chicago and Kansas City would bring hunters to nearby McPherson.
And Section 27 will take a step toward being what it once was.
"Life," Penner said with a smile, "tends to go in cycles."
Copyright 2018 The Associated Press. All rights reserved. This material may not be published, broadcast, rewritten or redistributed. We strive to uphold our values for every story published.