Normally, an 85-45 Kansas University men's basketball victory would be cause for celebration.
Not Wednesday night, however, when a funeral-like atmosphere engulfed Allen Fieldhouse just 4 1/2 minutes into KU's Big 12 Conference rout of Texas A&M.;
That's when KU sophomore forward Wayne Simien's right shoulder popped out of place while defending an inside shot by Aggie guard Bernard King.
Simien had played just 40 seconds when the injury occurred.
The 6-foot-9 sophomore suffered a subluxation of the right shoulder, meaning Simien was able to put it back into place. It took doctors to fit his shoulder back into its socket when he suffered a dislocation Jan. 4.
The crowd never re-energized after Simien's painful walk off the court to the locker room -- where he stayed the rest of the game -- despite a performance that included 23 points from Kirk Hinrich, 18 from Keith Langford, 15 from Nick Collison and 10 from Aaron Miles.
"It was tough for our team to get excited after that," KU coach Roy Williams said.
Williams once again spent most of his postgame news conference discussing the medical condition of Simien, who Williams said suffered his "most serious tweak since he hurt it the first time."
Simien originally dislocated his shoulder against UMKC at Kemper Arena and missed the next 11 games.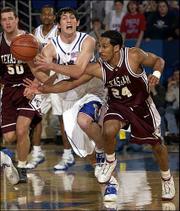 Nobody knows how long Simien, who will have shoulder surgery after the season, will be out this time.
"We'll have to wait and see how sore he is, see what his frame of mind is, see what his mom and dad think, and go from there," trainer Mark Cairns said.
Cairns said Simien "was in pretty good pain," after King bumped into the shoulder, but "didn't seem like he was in too much pain once they got him calmed down." Simien was able to pop his shoulder back into place rather easily, the trainer noted.
Cairns listed Simien as questionable at least for Saturday's game against Oklahoma State at Allen Fieldhouse.
Simien did not meet with reporters after the game. Instead, his teammates and coaches did the talking.
"It's just a bad situation," Collison said.
"We all know how tough he is and feel for him," said Simien's roommate, Keith Langford. "Hopefully, we can have him back by tournament time -- you know, a big game comes up or something like that. But it's his career, and I'm not going to ask him to risk himself."
Williams was asked if he had considered not playing Simien against A&M;, a team that fell to 13-11 overall and 5-8 in the Big 12. KU improved to 21-6, 11-2 and moved into first place in the league after Oklahoma's loss to Missouri.
"No. No," Williams said, reiterating that doctors and specialists had told him Simien cannot further injure himself by playing. "Basically, the decision that Wayne has made first and we've gone along with it is, he's decided to play hurt."
The other choice is not to play.
"He'll not hurt his shoulder any more, will not do any more damage," Williams said. "We had three doctors back there tonight and two specialists he's talked to said he will not hurt it any more by playing. He's chosen to try to play, whether 20 minutes or five minutes a game."
When Simien has played since returning from the injury, he has been impressive.
"He's doing what I think I would do," Williams said. "If you tell me I will hurt, but can still play, or I can't play ... I love to play. I'll do the same thing. Again my choice, his choice to play or don't play. He's chosen to play."
And Williams has played him.
"You don't have to be a nuclear physicist, and yet everybody who thinks they are a coach will say, 'You shouldn't play him against A&M.;' You only have so many opportunities in college to play. Kirk is still ticked about having missed one game (this year due to injury)," Williams said.
As far as Wednesday's game ...
KU held A&M; to horrific 26.2 percent shooting. The Aggies, who trailed 48-18 at halftime after hitting 20 percent of their first-half shots, didn't have a double-figure scorer. King was held to seven points on 2-of-9 shooting, and freshman standout Antoine Wright had seven off 2-of-11 shooting.
Langford guarded Wright, while Hinrich was on King.
"Normally, I write three things on the board before the game. Tonight I wrote one thing. I wrote, 'I want our defense to control the game.' I think they took it to heart," Williams said.
Copyright 2018 The Lawrence Journal-World. All rights reserved. This material may not be published, broadcast, rewritten or redistributed. We strive to uphold our values for every story published.