Nobody wants to have a lousy wedding cake.
Everybody getting married wants it to be the best it can be, right?
Luckily for those who live in the Lawrence area, there's a healthy supply of talented, experienced cake decorators who won't let a bride and groom go wrong on their big day.
You have to be careful, after all.
Because one of the things people really remember about a wedding is how the cake looked and tasted. And you don't want to be paging through your wedding album 40 years hence and gasp, "My goodness, our cake was so cheesy! What were we thinking?"
Styles of wedding cakes come and go, just as trends in fashions change year after year. So it's important to place yourself in capable hands when it finally comes time to put together a memorable and, hopefully, delicious cake of your own.
That's certainly on the mind of those who are planning weddings for this spring and summer, many of whom have already started putting in their orders for cakes. Here's a look at some of the longtime cake decorators in and around Lawrence, as well as their thoughts on where tastes in wedding cakes are headed these days.
Move toward fondant, fillings
You'd be hard pressed to find a cake decorator who approaches her craft as seriously -- and has the accolades to prove it -- as Helen Benefiel.
She has about 13 years of experience in the field, the last three of which have been spent working as a cake decorator at Hy-Vee Food Store, 3504 Clinton Parkway.
In 2000, Benefiel won the International Dairy-Deli-Bakery Assn.'s Cake Decorating Challenge in Anaheim, Calif., being chosen as the top decorator in a grocery-store setting from among 65 of her peers.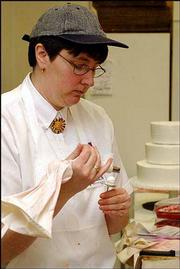 It's safe to say that when it comes to weddings, Benefiel takes the cake. She's designed and decorated hundreds of the confections for such affairs.
"I think brides are looking more for simple, elegant cakes. Fresh flowers are real popular, and the fondant cakes grow each year in popularity because of the look of it: a real smooth, polished finish," Benefiel said.
Fondant is a sweet, creamy sugar paste used in icings. It must be kneaded and rolled flat before being draped over cake layers. Fondant takes more time to work with and is typically more costly than a cake iced with buttercreme.
"I personally really like the taste of fondant, but some people don't. The kind of fondant we use at Hy-Vee, I think it has the best taste," she said.
Benefiel has noticed another trend, too.
"You don't see many of the bride and groom figures on the top of the cake anymore. I think most people think they're pretty old fashioned. But some people use their parents' cake topper, and I think that's a neat tradition to carry on," she said.
These days, Benefiel's customers also appear to prefer cakes in which the layers are simply stacked, one atop the other, rather than the traditional, tiered cakes where layers are separated by tall columns.
In wedding magazines, Benefiel is seeing a move toward more unusual, fancy cake flavors and fillings: lemon curd, mocha hazelnut and Kahlua.
"That's what I've read about, but I don't think those trends have reached Lawrence. Cake decorating in Kansas is very different from cake decorating in New York. It's less trendy here. People just want a basic, white cake that's good and moist," she said.
Groom's cakes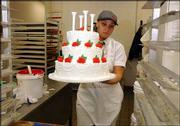 Gayle Tennyson, a cake decorator at Munchers Bakery, 925 Iowa, for the last 13 years, is making about three wedding cakes per weekend. As spring approaches, she'll start getting more orders in for weddings in June, July and August.
"The trend that I'm seeing right now is more simple cakes, not as elaborate. There's not as much ruffling or roping, and lots of people have used fresh flowers in the last year," she said.
Tall cakes, however, remain popular among her customers.
"It's the same. They still want them tiered."
While Munchers doesn't offer fillings to put between layers, the bakery does feature different cake flavors, such as strawberry, lemon, white and chocolate. Buttercreme icing is the norm, available in white, ivory and chocolate.
"I also do groom's cakes. They're fairly popular, just so he can have his own cake, and we put on whatever is his interest. It's kind of like, 'OK, I get a cake just for me,'" Tennyson said.
"I did a Colorado Avalanche hockey team cake for my son when he got married, and he loved it."
Fresh-flower cake toppers
The workload is brisk for Ruth Ann Schneider, a Eudora woman who has been decorating cakes full time on her own since 1984. She's done hundreds of wedding cakes over the years.
"I like doing this, because I get wonderful compliments. It's very rewarding when you get referred from one customer to another. I've probably set up cakes at every reception hall and church in Lawrence," said Schneider, whose business is called Ruth's Cakes.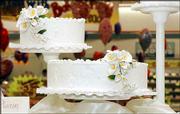 Like Benefiel and Tennyson, she has noticed some trends.
"Ribbons and pearls are the 'in' thing. To me, brides are going very plain, they're going for simplicity. They don't want too much decoration. They're going more to stacked cakes, or cakes with short tiers," Schneider said.
"And most everybody is going with fresh-flower cake toppers. Flowers and ribbons are popular."
Schneider, who makes her own buttercreme icing, can do a variety of cake flavors. The main ones she offers are white, chocolate, lemon and spice, though she can do carrot cake, too. Special fillings cost extra.
"If I can't do something, I'm not going to sit there and tell the customer I can, because that's their special day. For me, the wedding is very important for the bride and groom, whether the cake is for 500 people or 15," she said.
'Artists in icing'
Dillon Stores take a lot of the anxiety and guesswork out of settling on a style of wedding cake. Customers at the supermarket company's bakeries simply choose among a photo book of about 20 different designs.
"I think what people find appealing about this system is that it just makes it easier. They can come in and say, 'I want this,' and that's what they get. The less complicated, the better, because people already have so many things to worry about," said Kristy Craig, bakery manager at the Dillons grocery store at 3000 W. Sixth St.
Once customers have chosen a particular style of cake, they can individualize their order by choosing from a range of flavors of icings and cake.
Dillons bakeries offer wedding cakes in flavors such as: white, chocolate, marble, German chocolate, red velvet, carrot and strawberry. Customers can select buttercreme or whipped frosting. The icing comes in white, chocolate, ivory and cream cheese.
Craig has noticed a trend toward more pedestal cakes, in which a number of separate cakes at a wedding are arranged on stands of varying height. Some customers like to make each cake a different flavor.
Groom's cakes are popular, as well as the idea of designing a main wedding cake, and then ordering one or two sheet cakes on the side to boost the total number of servings.
Craig has been decorating cakes at her Dillons bakery for 30 years, and she takes great pride in her work.
"I call us 'artists in icing,' because we're usually covered in icing when we're all done," she said.
Flowers, fruit replace ruffles
One of the trends seen by Nancy Childers, a cake decorator at Hy-Vee Food Store, 4000 W. Sixth St., is a move toward cakes of different shapes: square, octagon, oval or hearts.
"I'm also seeing more people doing stacked cakes instead of tiered cakes. Or we'll use cut-down columns with less space in between the layers. I don't get a lot of requests for tiered cakes anymore," she said.
Traditional wedding cakes typically feature lots of scalloped or ruffled icing and other ornate, iced decorations. But these days, more customers are wanting a smoother, cleaner look and are decorating their cakes with fresh flowers, ribbons or fruit.
"They want to have color on the cake, but they steer away from the colored icing. This is a pretty way to bring color to the cake. I also see people, instead of using the traditional bride-and-groom topper on the cake, they'll use a small bouquet of fresh flowers," Childers said.
These days, intended grooms often join their brides-to-be for wedding cake consultations with decorators like Childers. The men are typically easy to work with.
"They're laid back -- 'Whatever you want.' They like to eat the cake samples," she said.
Copyright 2018 The Lawrence Journal-World. All rights reserved. This material may not be published, broadcast, rewritten or redistributed. We strive to uphold our values for every story published.